7 Special Mobile Commerce Moments: The Top Posts of November, 2015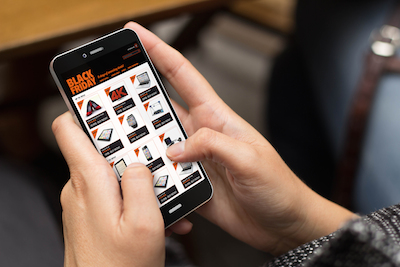 Well, we're in the home stretch of 2015, Big Thinkers, with just a few weeks left to go. But before we say goodbye to this year, it's time to take a look back at the most popular posts here on the blog last month as visited, viewed, rated, and reviewed by your fellow readers. So take just a moment to reflect on these 7 special mobile commerce moments:the top posts of November, 2015. Enjoy:
The biggest post of the past month, by a landslide, comes from our weekly e-commerce and digital strategy podcast called Thinks Out Loud and explains why "Mobile is So Much Bigger Than You Think." And it really, really is. Not only was it the top visited post on the site this November, it also was among the top tweeted and shared posts too. Give it a listen and see for yourself why your fellow Big Thinkers all liked it so much.
Another huge post in November came from our weekly E-commerce Link Digest series, this one a round-up of "10 Terrific Mobile, E-Commerce and Digital Marketing Missives."
I don't typically include past "Top Posts" collections in these recaps, preferring to keep the focus on original content each month. But there's a funny story about the edition just prior to this one you're reading right now. By mistake, I titled last month's post, "10 Must-Reads: The Top Posts from November, 2015" even though it was actually the collection of top posts from October (it was published in November and I was traveling like crazy, hence the mistake). By the time anyone around here caught the error, it'd been live for over a week and it seemed changing the title would create more confusion than it solved. In the immortal words of Rick Perry, oops. Anyway, if you'd like to see what other readers here on the blog liked and linked to the past October, here it is, mistaken title and all.
On a happier note, we've got a set of entries from the E-commerce Link Digest series up next for you. The first talks about "Google, Mobile, E-commerce. What More Could You Want?" while the second collects "9 Nifty November Mobile Commerce Insights." Good stuff all around.
A personal favorite post from last month makes its debut here on the list at #5, a hugely popular post called "It's Not 'Mobile First.' It's 'Customer First.'" Much like our top post this past month, this too got huge play on Twitter, Facebook, and LinkedIn as well as here on the blog. Check it out and you'll see why.
While technically not an entry in the Link Digest series, we tried something different a few weeks ago with this collection of "8 Digital Strategy Posts to Start Your Week Right," following the Link Digest format, but posting at the start of the week instead of the end. Seems like it worked, as this round-up rocketed into this month's list in just a week. Since you seemed to like it, expect to see more of these in the future.
And, finally, we'll round out this month's list with another Thinks Out Loud episode, this one called "How To Create a Customer." As mentioned in the podcast, the title comes from management consulting legend Peter Drucker's famous quote that "There is only one valid definition of a business purpose: to create a customer."

And looking back over the list, it seems like mobile commerce plays an increasingly large role in helping you do just that. Take the time to review all the entries from the past month, be sure to share them with your fans and followers on Twitter and Facebook, and subscribe to the blog so you don't miss any of our updates.
Well, there you have it, folks, the top posts for the past month. As ever, thanks for reading. If you're interested in learning more about making the social, mobile web work for your customers, be sure to check out these "8 Excellent Autumn E-commerce and Digital Marketing Posts," these "6 Must-See Mobile Commerce Messages for You," this set of "9 Digital Marketing Must-Reads for You This Weekend" and other entries from our E-commerce Link Digest series, plus these "7 Special E-Commerce and Digital Marketing Trending Topics: The Top Posts of September, 2015."
And if you want learn even more about how your customers' changing behavior shapes e-commerce and marketing, be sure and register to receive a special report I've produced in conjunction with hotel marketing firm Vizergy, "Digital Hotel Marketing in a Multiscreen World." While it's targeted specifically at hotel and resort marketers, the lessons apply to just about any business. You can get your free copy of the report here.
You can also check out these slides and video from my recent webinar, "Digital Marketing Directions: Three Key Trends Driving Your Marketing Next Year":
And, finally, you might want to take a look at some of our past coverage of the e-commerce, mobile commerce, and digital marketing overall, including: