Are Employees the Key to Good Reviews?
I'm very lucky to work with some amazing clients, folks who offer amazing products and services to their customers. And, if you check out the reviews they receive on places like Yelp, TripAdvisor, Angie's List, and the like, you'd see a remarkable set of reviews.
Recently a potential client asked me if there was any common thread that tied these folks together, what it was that led them all to get such great reviews.
Actually, it's pretty simple.
It's people.
Not just customers, mind you. But the people who work with those customers.
For instance, I work with a hotel ranked #1 on TripAdvisor. Take a look at this review: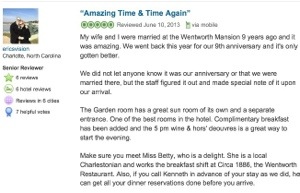 They don't just treat their staff like family. They are a family. The owners of this hotel (and its sister properties), have created a family among their staff, one that's welcoming, warm, friendly, and committed to providing their guests a fantastic trip.
I've said this many times, but social is people. When you treat your people well, it shows. And it tends to lead to better experiences for your customers. And that tends to led to better reviews.
OK, so that's a fairly upscale place. How about just a local "joint" (FYI, not a client)? Well, check this out:
>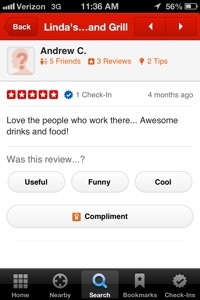 Again, customers loved the staff and ended up having a great time.
And, again, social is people. Treat your people well. They'll treat your customers well. QED.
Interested in more? Register to receive a free copy of my new special report, "Digital Hotel Marketing in a Multiscreen World," produced in conjunction with Vizergy, here.
And you might also enjoy some of our past coverage of customer reviews, the social, local, mobile web and what they means for your business, including: