Are mobile coupons right for your small business?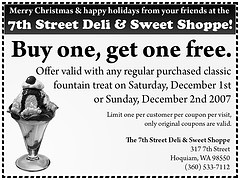 Are you using coupons to track your media? Have you considered using mobile coupons? For the local business owner, such tactics offer great opportunity.
Sure, large companies tend to lead the way when it comes to new marketing technologies. For instance, Coca-Cola uses mobile coupons in the UK to drive awareness and consumption of its products. But increasingly, simple technologies allow small businesses to accomplish the same results. For instance, Google has offered coupons on Google Maps for some time. Additionally, tools like Twitter allow for easy social media campaigns whether they use coupons or not. And the New York Times detailed how businesses are using services like 8coupons and Yowza!! to send coupons to mobile phones.
The fact is, enough tools exist to allow you to do the same today. While the mobile web is a huge growth opportunity, so is connecting with customers the way they use their mobile today. What's not to love?
Have you had success using mobile coupons? Or are you using coupons to track your online media? Tell us about it in the comments below.
---
Are you getting enough value out of your small business website? Want to make sure your business makes the most of the local, mobile, social web? thinks helps you understand how to grow your business via the web, every day. Get more than just news. Get understanding. Add thinks to your feed reader today.
And while you're at it, don't forget to follow Tim on Twitter.
Image credit: ralphhogaboom via Flickr using Attribution-Share Alike 2.0 Generic.
Technorati Tags:
analytics, continuous improvement, e-marketing, email marketing, internet marketing, iphone, marketing, measurement, mobile, online marketing, social marketing, testing