The New Small Business Website: Latest Website Design Trends by Megan Totka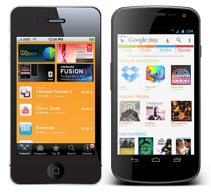 The rapid evolution of technology happens in more than the latest iPhone version or the newest in-car apps for smart cars. Technology design evolves right along with the hardware—and when it comes to websites, there have been several recent emerging trends in design.
If it's been a while since you've updated your small business website, you may want to consider some of the latest design elements and overall looks that are rapidly growing in popularity.
Responsive Design
When people started using smartphones to access websites, some businesses built separate mobile sites that worked better on smaller screens. Others relied on apps, and many ignored mobile users completely.
Your small business can't afford to ignore mobile any longer. Mobile traffic has risen dramatically, and in the third quarter of 2013, more than 28% of total website traffic came from mobile devices, according to data from public relations firm Walker Sands.
Responsive design is building your website so that it will render correctly and usably, no matter how your visitors access your site—from a PC, laptop, smartphone, or tablet. Quite a few popular website platforms, including WordPress, offer a wide selection of responsive-ready templates to choose from. [Editor's note: You can read more about simple, affordable website tools here and here.]
In fact, the idea of responsive design has informed many of the current trends in website design.
Fewer Images, More Eye-Catching Fonts
Simple elegance is a rising trend in website design. More business websites are backing off heavy image-laden pages in favor of using customized, stunning typography, a process made easier with plugins like Type Kit that expand font libraries beyond the standard TNR and Arial. Larger font sizes are also being used, due to the influx of bigger monitors and improved resolutions that make standard fonts look tiny.
This trend also helps to improve load times, since it takes images longer to load—a crucial plus for websites viewed on mobile devices.
Flat Design
Another mobile-inspired trend, flat website design stays away from gradients, shading, 3D elements, and other load-time killers in favor of using color schemes to create contrast. The new tiled Windows 8 operating system was the first major platform to depend on flat design, and Apple quickly followed with the overhauled iOS 7 interface.
Now, it's common to see flat design websites all over the Internet.
Continuous Scrolling
On websites with a lot of content, especially blogs and news feeds, it's common to find links at the bottom of the page to the next story, or the next page of items. Continuous scrolling gets rid of those links by automatically flipping to the next story or results page when you hit the bottom.
A popular new variant of continuous scrolling is the single-page website, which shows all the main content areas for the site in one page. Clicking on a menu item simply shifts your view to another area on the same page, instead of redirecting to a separate page URL (which takes more time to load).
Do you already use some of these design trends in your small business website? Are you planning a website redesign to incorporate them? Leave a comment and share!
Interested in learning more about the future of marketing in a multiscreen world? Register to receive a special report Tim produced in conjunction with hotel marketing firm Vizergy, "Digital Hotel Marketing in a Multiscreen World." While it's targeted specifically at hotel and resort marketers, the lessons apply to just about any business. You can get your free copy of the report here.
And, if all that's not enough, you might also enjoy some of our past coverage of the social, local, mobile web and what it means for your business, including:
About the Author:
Megan Totka is the Chief Editor for
ChamberofCommerce.com
. She specializes on the topic of small business tips and resources. ChamberofCommerce.com helps small businesses grow their business on the web and facilitates connectivity between local businesses and more than 7,000 Chambers of Commerce worldwide.
Image credit: Image courtesy of Intel Free Press.