When viral marketing isn't viral. Or marketing.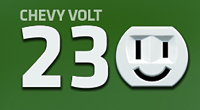 Today Chevrolet ended the "mystery" and announced its electric car – the Volt – is expected to reach 230 miles per gallon. Which is huge, by any standard. I guess. I'm not much of a car guy, but I do pay for gasoline and that sounds like a big deal. So big a deal, in fact, that Chevy has been running a viral campaign for the last several weeks (here in New York, anyway), trying to build some buzz around this announcement.
To some degree, the campaign succeeded. I noticed the ads almost every day in my building elevator and discussed them – albeit briefly – with colleagues. And as Ad Age noted, some folks even parodied the spots, as sure a sign as any that you're getting attention.
So what's my problem? Well, it seems that this effort is more marketing for the sake of marketing, rather than marketing for the sake of the customer. Sure, some films have built tremendous buzz using these techniques. Other media, too (I'm looking at you, JibJab). But, there was little secret about the product they were trying to sell. And the consumer benefits were clear (i.e., participate in these stories we're trying to tell for Batman, show how funny you are for JibJab).
230 miles per gallon is really cool. It's also a feature. Tell me I only have to fill the tank 4 times a year and that's a benefit. Which one appeals to you more as a consumer?
The point is, there's nothing wrong with viral marketing, regardless of product. But make me care. Then I'll want to tell all my friends. Otherwise, you're not viral. You're a bug.
---
Are you getting enough value out of your small business website? Want to make sure your business makes the most of the local, mobile, social web? thinks helps you understand how to grow your business via the web, every day. Get more than just news. Get understanding. Add thinks to your feed reader today.
And while you're at it, don't forget to follow Tim on Twitter.
Technorati Tags:
e-marketing, internet marketing, marketing, social, social marketing, social media, social strategy, strategy