10 tools to simplify your business blogging (Small Business E-commerce Link Digest)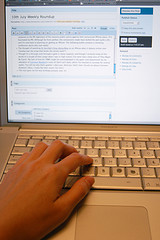 Many small businesses now manage blogs to communicate with customers, improve SEO and increase revenues. It's a valuable tactic. But, if you're relatively new to blogging, how can you do it most effectively? Are there tips, tricks or tools you can use to improve your blogging?
Definitely.
Using our proprietary thinks "Real World Tested" methodology [*], we've picked out 10 tools, by category, that will make you a more productive blogger. Many are free and all but a handful are either web-based or work across Macs and PC's so you can use the platform of your choice. Without further ado, here are the top 10 tools to simplify your business blogging:
Blog editor – I've never been a big fan of the default WordPress editor and instead prefer to do my writing locally. Do I like MarsEdit for the Mac? No, I don't. I love it. I wish every piece of software worked as well. It connects with multiple blogging platforms and manages multiple blogs in a simple, straightforward interface. And it has simple but powerful macros that you can edit to streamline your typing, easy image uploading, plus a "Post w/ Mars Edit" bookmarklet to move information from your browser quickly and cleanly. It's one of the top reasons I prefer Macs.

On the PC side, I typically use w.bloggar or BlogDesk. While w.bloggar hasn't been updated since late 2007, it's impressive how much use I still get from it. And I've really been impressed with BlogDesk's simple interface. It does everything it's supposed to and stays out of the way for everything else.

Clipboard manager – Writing a blog post requires lots of copying and pasting. That's why I can't live without Jumpcut (Mac) and Ditto (PC). These tools allow me to copy multiple items (URL's, text, HTML, what-have-you) from across my machine and only return to my editor when I'm ready to paste. Trust me, it's a lifesaver when doing posts like our weekly link digests. Or this one. The best part? They're both free.
Image search – We all know a picture is worth a thousand words. And that's what makes Flickr's advanced search priceless. Thanks to the wonders of Creative Commons – and this tip from Seth Godin – you can find great, free images to enliven your words with a worthy picture. How cool is that?
Image editor – Of course, sometimes your images will take a little massaging (make sure the image license allows you to fold, spindle and/or bend as needed). When I have to, I like Acorn (Mac) or Adobe Photoshop CS4
(Mac/PC). Photoshop is $500 more than Acorn and only worth it if you need the extra horsepower it provides (if you need it, it can be worth every penny). For most mortals, though, Acorn will work wonders.
Screen captures – Depending on what you write about, a screenshot can make for the best image to accompany a post. And while you can use the built-in tools for taking screen captures on any computer, the ability to take scrolling images, video captures and perform basic editing within tools like Snapz Pro X (Mac) and SnagIt Version 9.1 (PC) usually make them worth their $50 to $70 price tag.
News reader – Of course, all the pretty pictures in the world won't help you if you've got nothing to say. I use Google Reader (Web-based), NetNewsWire (Mac/iPhone) and Viigo (BlackBerry) to keep up with hundreds of feeds online, offline and wirelessly, too. What you can't read hundreds of feeds every day? Me neither. That's why I use Steve Rubel's "knowledge management ninja" tip to help me find just the right posts to support my ideas without drowning in a data deluge every day.
Twitter client – Yup. Twitter. You know how important it is for smart companies. And tools like TweetDeck (PC/Mac/iPhone), Tweetie (Mac/iPhone) and TwitterBerry (BlackBerry) help me stay connected to my fellow Twitizens every day.
Keyword research tools – Keywords, keywords, keywords. I love 'em. Can't live without 'em. Think about 'em every day. (Sad. But true). Every blog depends on 'em, so much so that they comprise one of the "Four C's" of business blogging. (Read the post. It'll make sense then). I use Wordtracker and Google's free keyword research tool all the time to find the right words to write. You should, too.
An outboard brain – Of course, finding good content and keywords is only useful if you remember what it was you found to say. I use several tools, including Evernote, Delicious and, yes, good ol' pen and paper (in my case, a large Moleskine square print notebook),
to keep track of everything I need. Delicious lets me track bookmarks, Evernote and my Moleskine everything else.
Browser bookmarklets – And, finally, I know I mentioned the "Post w/ Mars Edit" bookmarklet above. But it bears repeating. Between it, my "Bookmark on Delicious" bookmarklet and and the "Flickr Advanced Search" link, that may account for 50% of my daily clicks. The best part? They work in Firefox, Chrome, Safari and Internet Explorer. So, fire up your favorite browser and get clicking.
iPad apps – If you're blogging from an iPad, be sure to look at our list of essential iPad blogging tools, too.
Hope you have a great weekend everybody. Now that you've got these tools, get out there and get blogging!
Oh, and don't forget our ProStores E-Commerce Makeover, either. Write a post about why your site needs help and win six free months of ProStores service. That's right. Free. So, whaddya waiting for? Enter today.
"Real World Tested" Methodology: The list above represent the tools used here at thinks to publish this blog every day. They're all used in real-world conditions and represent my picks for improving the researching, writing and publishing process. While I do most of my writing on a Mac, I also spend plenty of time on PC's and mobile devices, too, and want to be able to accomplish any task from any machine. With that in mind, I've listed my favorite tools on each platform as well as the platform on which I use each tool. In some cases the tool is available on additional platforms; however, I'm only listing the ones on which I use the tool.
Affiliate linking disclosure: A handful of these product links (Wordtracker and the products available on Amazon) include my affiliate ID, with any revenues generated used to help offset the cost of running thinks. If you want to buy them somewhere else, I encourage the products just the same. Believe me, I'm not getting rich on my affiliate links; that's Darren Rowse. ;)
---
Are you getting enough value out of your small business website? Want to make sure your business makes the most of the local, mobile, social web? thinks helps you understand how to grow your business via the web, every day. Get more than just news. Get understanding. Add thinks to your feed reader today.
And while you're at it, don't forget to follow Tim on Twitter.
Image credit: kpwerker via Flickr using Attribution-Share Alike 2.0 Generic.
Technorati Tags:
adwords, blogging, blogs, business blogging, E-commerce, Free, Google, google, google adwords, internet marketing, iphone, seth godin, Seth Godin, solutions, tools, wordpress.com, wordpress.org