7 Essential iPad Apps for Blogging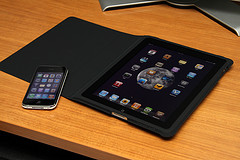 A couple months ago, I ripped on, er, critiqued blogging on the iPad. At the time, I explained why blogging on the iPad isn't yet ready for prime time. Now, thanks to some new and/or updated apps—along with the introduction of (limited) multi-tasking on the iPad—I'm beginning to change my tune.
Since the iPad WordPress app is still crap, I've chosen the apps that I've found make me the most productive, though I still finish the post either on my laptop or by copying and pasting the post into the WordPress app on the iPad. It's not a perfect system, but it works for most posts reasonably well.
Finally, I've included two sets of links for each of these apps. The first list links to the application developer's website and the second list at the bottom of the post will open the links in iTunes. Obviously, clicking that second list's links on a machine without iTunes won't work.
Without further ado, here are the essential apps for blogging on the iPad:
Again, for quick reference, here all the links to the apps on the iTunes Store (requires iTunes):
Now don't get me wrong. Red Sweater Software's MarsEdit for the Mac is still my all-time favorite blogging tool (or, if you're trapped in a Windows environment, w.bloggar for the PC). But, today, if you absolutely want to blog from the iPad, this is my favorite set of tools.
Are you blogging on your iPad? What works for you? I'd love to hear about it. Drop me a note or leave a comment below and tell us all about it.
---
Are you getting enough value out of your small business website? Want to make sure your business makes the most of the local, mobile, social web? thinks helps you understand how to grow your business via the web, every day. Get more than just news. Get understanding. Add thinks to your feed reader today.
And while you're at it, don't forget to follow Tim on Twitter.
Image credit: Yutaka Tsutano via Flickr using Attribution 2.0 Generic (CC BY 2.0).