Yet another reason smart companies use Twitter
What's that? Still not sure what value Twitter offers your business? We saw another lesson this past week. Quick recap:
McNeil Consumer Healthcare created an ad for its Motrin product targeting specific customer group (new mothers, in this case)
The customer group hated the ad
The customer group took to the airwaves (Twitter) to protest
Mass media – the Associated Press, WSJ, Scientific American (!) – picked up the dissent
McNeil pulled the ad and apologizes, far too late to satisfy the customers, who created their own video response:
The point? You at least need to be aware how your customers talk about your brand in places like Twitter. And there are some simple ways to do so.
See this screenshot? This is a search on Twitter for Motrin.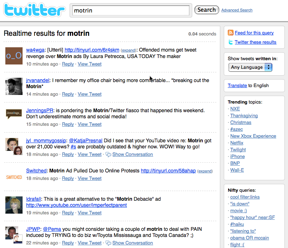 If McNeil had one of its marketing folks subscribe to the feed for this Twitter search alone (see the small RSS subscribe button?), they may have been better able to address the situation. Is it a perfect solution? No. But as McNeil learned here, you don't need to be perfect to be better than nothing.
Not enough? Want more? See Pistachio's excellent overview of McNeil's Motrin headache. David Armano takes a deep look at how you can connect with your customers via social tools, as does Josh Bernoff, every day. Josh and Charlene Li's fantastic book – Groundswell: Winning in a World Transformed by Social Technologies

– can also help you learn more about the changes that issues like this represent.
---
Are you getting enough value out of your small business website? Want to make sure your business makes the most of the mobile, social, local web? thinks helps you understand how to grow your business via the web, every day. Get more than just news. Get understanding. Add thinks to your feed reader today. Or subscribe via email.
And while you're at it, don't forget to follow me on Twitter.