2009 Prediction Roundup (Small Business E-commerce Link Digest – January 9, 2009)
2009 Prediction Roundup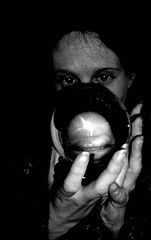 Don't you love predictions? Every year, we get bombarded with folks prognosticating what's coming down the pike. And don't worry, mine are coming soon. In the meantime, here's a consensus of what folks are predicting for the local, mobile, social web in 2009.
Of course, you know the best way to make sure your predictions are right, don't you? Create the future you want for yourself.
Enjoy your weekend, Big Thinkers. Catch you right back here on Monday.
Photo credit: giraffes via Flickr using Creative Commons-Share Alike 2.0 Generic.
---
Are you getting enough value out of your small business website? Want to make sure your business makes the most of the mobile, social, local web? thinks helps you understand how to grow your business via the web, every day. Get more than just news. Get understanding. Add thinks to your feed reader today. Or subscribe via email.
And while you're at it, don't forget to follow me on Twitter.
Technorati Tags:
marketing, social, social marketing, social media, vision, 2009 predictions, predictions, social media predictions, marketing predictions