Do you still sleep on the same side of the bed?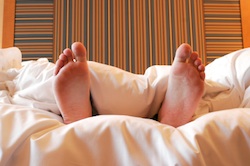 I had a funny experience last night, one you probably have had, too. I'm staying in a hotel and my room has a beautiful king-sized bed. But when I went to sleep last night, instead of sleeping anywhere I chose, I only used the half I sleep in at home. And, to be perfectly honest, I didn't notice until I woke up. It's like I didn't even see the other half of the bed.
Do you do that with your business? Have you done some things for so long that it now would never occur to you to do them any different? 
Do you run the same promotion every year, despite the fact that it gets the same (flat) results year after year?
Do you always ask the same things of your employees, instead of challenging them to grow?
Do you read the same books, the same magazines, (dare I say it?) the same blogs even though they're telling you the same thing you read last week, last month, last year?
Do you always talk to the same people about the same topics? Or do you go out of your way to expose yourself to new ideas?
Is it possible you've got a bigger bed than you think?
---
Are you getting enough value out of your small business website? Want to make sure your business makes the most of the local, mobile, social web? thinks helps you understand how to grow your business via the web, every day. Get more than just news. Get understanding. Add thinks to your feed reader today.
And while you're at it, don't forget to follow Tim on Twitter.
Technorati Tags:
achievement, business, continuous improvement, creativity, kaizen, leaders, leadership, marketing best practices, objectives, strategy, success, vision