Does Google care if you show up at all?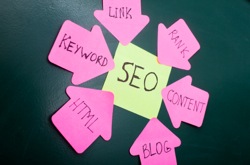 Search Engine Land points out that Google is testing the idea of returning fewer than 10 results when they think they know the answer. To be fair, if you're not in the first handful of results, you're probably not getting many (or any) clicks.
But it's a troubling sign when Google doesn't think your site is even worth showing.
Assuming, of course, that you have a site. (And, if you don't, check out our guide on how to build a blog for your business, quick).
Google isn't done here. As both mobile and social activities drive changes in search behavior, Google will continue to play with its method of presenting results. After all, it's got 10 billion reasons each quarter to do so.
Of course, Google's continually shifting search results underscores a point LinkedIn founder Reid Hoffman made the other day when he said social media is still very young. I agree. In fact, the growth of Pinterest, the introduction of Google+ and Google's ever-changing algorithms suggest strongly that we're still in "the cave painting days" of Internet marketing.
---
Are you getting enough value out of your small business website? Want to make sure your business makes the most of the local, mobile, social web? thinks helps you understand how to grow your business via the web, every day. Get more than just news. Get understanding. Add thinks to your feed reader today.
And while you're at it, don't forget to follow Tim on Twitter.
Tim Peter & Associates helps companies from startups to the Fortune 500 use the web to reach more customers, more effectively every day. Take a look and see how we can help you.
Technorati Tags: marketing, marketing best practices, search, search engine marketing, search engine optimization, sem, seo