Eight Excellent Easy Website Hosting Options (Small Business E-commerce Link Digest – January 20, 2012)
It seems everyone's looking for simple, inexpensive solutions for hosting their websites. Happily loads of tools exist to help you get a site up quickly. While I've provided in-depth comparisons of many of these tools in the past—as well as explored available options in our small business blogging guide—here is a quick summary of eight quality offerings.
Weebly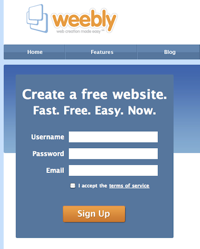 One of the long-time leaders in the space, Weebly has continued to enhance their offering since I last reviewed them.
Pros:
Cons:
Limited e-commerce options
Only ad-free in the paid versions (though, again, those options are fairly inexpensive)
Cost: Free as long as you're OK with advertisements (you shouldn't do this, though). Paid versions start at $3.99/month. Domains are expensive through Weebly, so buy your domain elsewhere and direct it to your Weebly site instead.
Squarespace

Another strong offering that continues to grow in features and functionality. I reviewed Squarespace last year and they continue to impress.
Pros:
Powerful
Very flexible (especially if you have CSS development chops)
Unlimited bandwidth at higher plan options
Excellent customer support (arguably the best in the business)
Cons:
Expensive relative to other options
Cost: Starts at $12/month.
Jimdo

Jimdo continues to challenge Weebly and Squarespace for top billing. While not as powerful as Squarespace, Jimdo offers loads of options at a reasonable price. Well worth checking out.
Pros:
Powerful, even at the free levels
Loads of third-party widgets
Surprisingly strong e-commerce support
Highly customizable at paid levels
Lots of language options
Cons:
Blogging platform not as strong as others
SEO editing capabilities limited relative to competition
Domain hosting requires paid versions
Cost: Free. Starts at $5/month ad-free with domain hosting.
Yola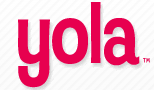 Formerly known as SynthSite, Yola provides an excellent site editing tool and decent features, but is expensive relative to others for what you get.
Pros:
Easy to use editor. It's not the most intuitive, but isn't hard to use once you gain some familiarity with it.
Lots of third-party widget options
Very good customer support
Cons:
Relatively expensive compared to the other options
Limited customization options
Only allows Google Analytics integration at the highest paid level
Poor built-in analytics
Cost: Free. $9.95/month to remove Yola advertising and add Google Analytics for your site (which you'll definitely want to do).
SiteKreator

SiteKreator takes a slightly different approach than many of the others in this round-up. While they offer self-maintained sites like the others here, they also offer a "Deluxe" package where their designers will build a completely custom site for your business. I can't recommend their "self-managed" solutions (most others here offer more power for less money), but if you need a custom site, their Deluxe offering is worth a look.
Pros:
Loads of flexibility at highest paid level
Cons:
Cost: Starts at $19.95/month for self-created websites. $79.95/month + a one-time $500 setup fee for a custom SiteKreator-built site.
Homestead

This offering from Intuit plays on its parent's relationship with small business owners but doesn't offer the bang for the buck of its competition. You're almost certainly better served with other options, even for e-commerce. So, why include it? If you plan on doing heavy e-commerce volume, Homestead's customer support and credit card processing features make it worth a look.
Pros:
Decent e-commerce capabilities at highest paid level
Strong customer support
Cons:
Expensive
Blogging tool is a hassle to work with
SEO capabilities could be better at lower-price level
Cost: Starts at $4.95/month. $19.95/month for blogging, e-commerce and custom domain options (which, again, you likely should choose).
Tumblr

Seriously? Tumblr? Yes, Tumblr. While it's much more a blogging tool than a full-fledged content management system (CMS), building a simple site on Tumblr is fast, easy and fun. And its social tools can help drive traffic and interest in your site. While it's not for everyone, for the simplest sites, Tumblr may be exactly what the doctor ordered.
Pros:
Incredibly simple site builder
Free
Surprisingly robust, especially if you're comfortable with CSS
Loads of templates to choose from, with lots of customization option. "Premium" templates are inexpensive
Excellent mobile options
Built-in social integration
Cons:
Limited support apart from the Tumblr community
Setting up your own domain requires you to manage A name records at your domain host (this page is the entirety of Tumblr's support for the process)
Not a full-fledged content management system
Cost: Free. Truly. You'll have to buy your own domain elsewhere, but free unless you choose to purchase a "premium" template.
WordPress

I've long been a fan of WordPress. Despite its origins as a blogging platform, WordPress has grown into a fairly robust CMS in its own right. While not a great option for e-commerce applications (you'll need a separate, third-party option for that), for many small business sites, WordPress offers exactly the right features at a reasonable cost.
Pros:
Great content editor and world-class standard blogging platform
Excellent community
Fully customizable (for an additional fee)
Terrific SEO capabilities
Tons of plug-ins and widgets
Ability to move to your own host if necessary
Inexpensive
Cons:
Support options are not as good as other paid choices (though, as noted, WordPress has an excellent community around it)
Setting up your own domain requires you to manage A name records at your domain host (And this page is the entirety of WordPress's support for the process, unless you purchase their Guided Transfer option)
Cost: Free. Starts at $41.97/year to remove ads and add your own domain (effectively $3.50/month). Custom designs cost $30/year.
Conclusion
Any of the options discussed above will help you get a quality website online quickly and easily. And with prices ranging from a couple bucks per year to a couple hundred, none will bust your budget. Obviously, your specific needs will determine which offering works best for your business. But, if you don't have a website, the options presented above demonstrate why that shouldn't be true any longer. Take a look and start engaging with your customers online today.
Disclosures: I am an affiliate of eBay ProStores, Amazon
, Dreamhost, the Thesis theme platform and (as of October, 2011), Squarespace but received no compensation for writing this post from anyone. While I recommend Squarespace for those that need its power and flexibility, it's not right for everyone. I also recommend you look at other, lower-priced options to determine whether Squarespace is right for your business.
Interested in learning more? Register to receive a free copy of my new special report, "Digital Hotel Marketing in a Multiscreen World," produced in conjunction with Vizergy, here. While it's targeted to the hospitality industry specifically, most of the lessons apply across verticals. And, if that's not enough, you might also enjoy some of our past coverage of the social, local, mobile web, including: