Google and the future of mobile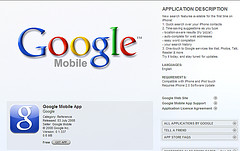 Obviously, we here at thinks are bullish on the potential for the mobile web. And, it's no secret Google is too. What impressed me most, of course, is Google's observations "…mobile phones are more prevalent than cars (about 800 million registered vehicles in the world) and credit cards (only 1.4 billion of those)".
Google wants to add to those numbers. To do so, it's launching its first Android phone, the G1, today. London's Telegraph newspaper (How ironic is that? 2 obsolete technologies for the price of one) offers a preview of what the G1 must do to unseat the iPhone.
The point here isn't that you need to worry about which phone is newest, hippest, coolest. The point is the mobile web is here. It's more common every day. How can you be ready? Make sure you've got a website. Make it findable, browsable, reachable. Follow standards. That's a good start. Don't worry about being too far in front if you address these items today. They'll help you in both the PC-based and mobile web. Because, as we're learning, they're increasingly the same thing.
Like this post? Want more like it every day? Subscribe to thinks in your favorite newsreader now.