Opera gives another look at the State of the Mobile Web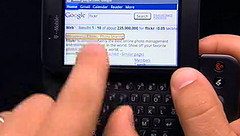 Hmm… let's see… any big stories in the news this week? Lots? And all about the mobile web? Cool. What's going on?
First, we had the release of Google's first mobile phone earlier this week. Now Opera has released its latest State of the Mobile Web report. The most interesting stat for me:
"Mobile Web users spend a significant amount of time browsing less popular Web pages in addition to the most popular ones…in general… they are accessing the full Web, including niche sites that do not individually generate massive amounts of traffic."
The report continues,
"This is in direct contrast to WAP browsers, where the content available to users is limited by the confines of the "walled gardens" within which users are forced to stay. As users get more comfortable with the idea of browsing the full Web on their handsets, we expect that the Long Tail of the Web visited by Opera Mini users will continue to grow, both in each country and globally."
Admittedly, in down economies (what, you thought mobile news was the only thing going on this week?), you're best playing to your core strengths, avoiding short-lived fashions, generally not taking big risks. At the same time, ensuring you have a presence on the web – and increasingly that means the mobile web – must be a core strength.
How do you know you're ready for the mobile web? Check out thinks' past coverage of the mobile web and e-commerce, for one.
Tip o' the hat (thinks-ing cap?) to ReadWriteWeb for the original link to the story.
Are you getting enough value out of your small business website? Want to make sure you're ready for the mobile, social, local web? Subscribe to thinks today and get more than the news. Get understanding.