Google's Latitude brings location-based services to the mainstream
Google's Latitude brings location-based services to the mainstream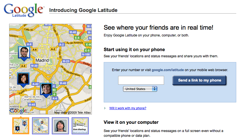 Social media maven Robert Scoble is hosting an active discussion on FriendFeed about Google's new "Latitude" offering. Latitude lets you and your friends see where you are via your mobile phone, message one another, and so on. Think of it as Google's entry into mobile social networking.
We looked at location-based services earlier this week. And, as discussed, privacy concerns seem to be the hot button issue. Scoble's comments about Latitude's privacy controls are valid. You can limit whether your friends can see your location. Of course, as true privacy advocates will tell you, your friends aren't the ones you should worry about.
Still, this marks a major step forward for the local, mobile, social web. Not because it's the first application of its kind; it's not. Jaiku, Nokia FriendView, BrightKite and others have offered similar functionality for some time. However, Google has one thing those other services don't. Mass appeal. And that's why Latitude matters. Latitude will either open your customers' eyes to the power and value of location-based services or scare the hell out of them and foster a dialogue of online privacy. Or both. In either case, don't expect this to go away quietly.
---
Are you getting enough value out of your small business website? Want to make sure your business makes the most of the local, mobile, social web? thinks helps you understand how to grow your business via the web, every day. Get more than just news. Get understanding. Add thinks to your feed reader today. Or subscribe via email.
And while you're at it, don't forget to follow me on Twitter.
Technorati Tags:
Google, mobile, social, social marketing, social media, Google Latitude