Wired looks at the local, social, mobile web. And it likes what it sees
Looking at the Local, Social, Mobile Web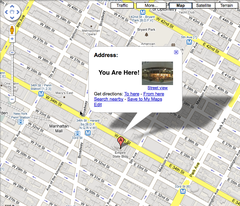 Mat Honan in Wired Magazine took a long look at the local, social, mobile web in a piece called I Am Here: One Man's Experiment With the Location-Aware Lifestyle. Money quote? "That old saw about how someday you'll walk past a Starbucks and your phone will receive a digital coupon for half off on a Frappuccino? Yeah, that can happen now."
The key takeaways:
Privacy will limit growth of the mobile web. When a Wired contributing editor is freaked out by how close to home – literally as well as figuratively – these tools can bring stalkers, weirdos and the generally annoying, expect your customers to feel the same.
Mobile-enabled search will be a big deal. Just because users of mobile apps – even Wired users – have concerns about stalkers finding them doesn't mean they don't want to find you. As Honan notes, "By trusting an app (iWant) that showed me nearby dining options, I discovered an Iraqi joint in my neighborhood that I'd somehow neglected. Thanks to an app (GasBag) that displayed gas stations with current prices, I was able to find the cheapest petrol no matter where I drove."

So, one local business gained a new customer, while the effects of mobile on price transparency (also see this presentation on price transparency), probably cost some of those gas stations.

I had a similar experience recently, when I needed a place for a lunch meeting close to a colleague's office. One location-aware Google Map search on my (awesome) BlackBerry Bold, followed by a quick scan of reviews and I had the makings of a successful lunch.

Mobile web etiquette doesn't exist yet. This shares much with the aforementioned stalkers, weirdos and generally annoying from point 1, but adds twist that you may want these folks to find you. Just not all the time.
My biggest knock on the story is its lack of depth into how common these tools are among potential customers. I suspect it's because hard numbers are tough to come by. But when you consider there are 3.5 billion GSM users out there; that location-aware devices like the iPhone, Curve, Bold, Storm and LG Dare dominate the sales charts; and that Gartner sees location sensing as a key trend for 2009, you can expect usage to grow among your customers.
Read the article. You'll gain useful perspective on what's already here. And what's coming.
---
Are you getting enough value out of your small business website? Want to make sure your business makes the most of the mobile, social, local web? thinks helps you understand how to grow your business via the web, every day. Get more than just news. Get understanding. Add thinks to your feed reader today. Or subscribe via email.
And while you're at it, don't forget to follow me on Twitter.
Technorati Tags:
2009 predictions, mobile, social, social marketing, social media