Grow Traffic – 7 Steps to Grow Your Business Blog
Grow Traffic – 7 Steps to Grow Your Business Blog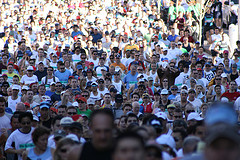 What do you mean I didn't finish the Small Business BLOG Series? We're rounding out our series on how to implement your small business BLOG strategy – which, admittedly, up until now has been a strategy for how to, um, BLO – right now with the final step in the process, Growing Your Traffic.
Growing traffic is relatively easy. Seriously. If you're writing things your customers find interesting, offering them useful information, your traffic will grow. No. It won't happen overnight. But, you can expect to see more traffic over time. Here's how.
Comment – If you're serious about having a blog, then, before you write your first post, begin to read and comment on blogs that interest you and that interest your (potential) readers. Just as you'd do market research before launching a new product, spending time on other blogs in your segment will give you a better idea of what works, what doesn't, what your customers care about and what they couldn't care less about. See a post with tons of comments? Write a response. But take an alternate point of view. Extend the idea. Make it original. Make it your own. The world doesn't need another "me, too" comment. Or blog post. Once you're established in those blogs' communities, including a link to your own blog – where appropriate – adds to the community, instead of just looking like you're siphoning off. (FYI… getting through comment filters usually works best if you've got something to say, you're not writing in Cyrillic or you're not blogging about certain performance-enhancing pharmaceuticals).
Guest post – Speaking of performance-enhancing, guest posts are comments on steroids. (Not the awful kind that make you jerky and cause your man-bits to shrivel to raisins. The good, metaphorical kind). ProBlogger has a great write-up on the benefits of guest posts. You should read it. And think about inviting your readers to guest post on your blog. Who knows your readers better than one of them? Got folks who add lots of comments (or one brilliant one)? Ask them if they'd like to contribute.
Write You know. Write. Write frequently and write consistently. You don't have to have 15 posts per day. But you're most likely to draw repeat visits – and have those folks share you with their friends – if you give them something new regularly.
Optimize – Remember when we talked about keywords? Search engines will eventually contribute a fair bit of traffic to your blog. But only if they can find you. Make sure you're following solid SEO practices. And make sure you're using your keywords effectively in your posts. For many sites, your customers can't find you if Google doesn't first.
Link – Links are the lifeblood of blogs. A blog without links is an orphaned soul, unloved, unused, unsung. As with comments, links should be relevant to what you're trying to say. Find folks who support your point of view or – better yet – extend the idea in a new direction and give 'em a link. Some bonehead got it all wrong? Link to him, too, and let your readers make up their mind. At the recent ThinkVisibility conference, Chris Garrett noted you'd do well to partner with another blogger, playing off one another or taking two sides of an argument. Even without that partner, linking to establish a point-counterpoint works wonders. When blogging, make like election day in Chicago: Link early. Link often.
Email – Yes, email. What? You think only the Web works? Email has been around for a long time and there's no reason you shouldn't use it – judiciously – to promote your blog. Email friends, colleagues, fellow bloggers when you think you've got something worth sharing. Don't overdo it. Don't spam people to death. But don't be afraid to ask for a critique or a link. Write a simple email introducing yourself and explaining why you think your post is relevant to the recipient. Don't worry if they don't respond. Be polite. Be personable. Be friendly. If you're providing value, they'll figure it out.
Tweet, Stumble and Digg – Finally, one great way to get customers to interact with you is to use social tools, such as Twitter, StumbleUpon, Digg, Reddit, etc. to announce your posts. As with commenting, though, make sure you're part of the community before you begin sending links blindly. I get lots of traffic from Twitter, but have taken the time to build up a network there. While I announce a blog post on Twitter a couple times a week, I tweet 8-10 times per day. Connect first. Then pitch.
Building your small business blog's traffic will take some time. These 7 steps will help. Of course, you're a creative group. I know I've left out plenty. What's worked for your site? For your business? Tell us about it in the comments. I'd love to hear from you.
---
Are you getting enough value out of your small business website? Want to make sure your business makes the most of the local, mobile, social web? thinks helps you understand how to grow your business via the web, every day. Get more than just news. Get understanding. Add thinks to your feed reader today. Or subscribe via email.
And while you're at it, don't forget to follow me on Twitter.
Image credit: shotmeshotyou via Flickr using Creative Commons Attribution 2.0 Generic.
Technorati Tags:
blogging, blogs, business, business blogging, e-marketing, marketing, online marketing, social, social marketing, social media, social strategy, twitter, internet marketing, internet business, seo, search engine optimization