Blog content redux: The 6 Must Read Blog Posts on Writing Blog Posts
Blog Content Redux: The 6 Must-Read Blog Posts on Writing Blog Posts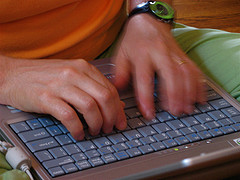 How much more do you want to know about creating content for your blog? A lot more? Excellent.
While the 4 steps to great blog content we looked at yesterday will get you started, lots of information exists on the Interwebs about how to get better at blogging. As it happens, many great bloggers write about… well… blogging great. And since I couldn't find an appropriate way to include all these in yesterday's post, I did the next best thing. You guessed it: bonus content!
---
Are you getting enough value out of your small business website? Want to make sure your business makes the most of the mobile, social, local web? thinks helps you understand how to grow your business via the web, every day. Get more than just news. Get understanding. Add thinks to your feed reader today. Or subscribe via email.
And while you're at it, don't forget to follow me on Twitter.
Photo credit: Sue Richards via Flickr using Creative Commons Attribution-No Derivative Works 2.0 Generic.