Guest post: 8 Ways to Optimize Your Online Store for Christmas
It's beginning to look a lot like Christmas… well, soon enough anyways. And if this year's holidays are going to be anywhere
near as bleak as some are predicting
, it's especially important to do everything you can to help your customers find what they're looking for. That's why I'm very pleased to offer this guest post from Ran Nir, e-commerce manager of online
kitchen worktops
store
Wood and Beyond
, which looks at 8 Ways to Optimize Your Online Store for Christmas.
After you've read Ran's terrific tips, take a look at our tips on how to plan your A/B tests and our 6 quick ideas to grow your traffic to get the most from your holiday season shoppers.
But, first, over to Ran…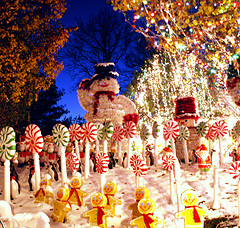 Optimizing your online store for Christmas 2009 could make a big difference between ending the year successfully and not. Due to the financial crisis this year, we as store owners or online managers will have to work harder to match last year's figures. However the financial crisis could also mean more potential customers looking for great deals online. And that's why I propose 8 ways to optimize your online store in time for Christmas.
Get your online store in order:
1. Fix broken product pages – Making sure all your product pages are working and accessible throughout your site is essential for SEO and for your customer's user experience. To find which – if any – product pages are indeed broken, download and run the free utility xenulink. The software will verify many internal link types such as normal links, images, frames, plug-ins, backgrounds, local image maps and many more. Once found, make sure to fix those pages or 301-redirect old product pages to related products.
2. Test your site in multiple browsers – To ensure high level of online conversion and user satisfaction, your online store must cater to the most popular browsers, such as IE, Firefox, Safari, etc. Testing so many different browsers could take ages, but luckily using the free online utility browser shots, this process takes just a few minutes. Look at product pages in particular to ensure prices, delivery costs and product information are displayed correctly.
Optimize on-site elements:
3. Optimize product images – By optimizing your images for users and for search engines you'll likely increase conversion rates and improve traffic. Optimizing images for users means ensuring all the images are of high quality and (if possible) include more than one image per product, while optimizing images for search means using the product title as the file name, using alt text and hosting the images on your own site. Doing both successfully likely means gaining more organic traffic from Google image search.
4. Double check your contact information – Adding full contact information won't just increase the number of customers contacting you, it will also increase your online store's credibility, resulting in more conversions. And that's a nice bonus, isn't it? This Christmas ensure that you offer enough ways to contact your store. For example, consider engaging with your target market using Twitter, a Skype web button or even consider an online chat such as the free Google talk plugin.
5. Create Christmas-specific landing pages – Creating landing pages targeted at Christmas is an excellent way to increase traffic to the site and revenue. The key is to create high quality landing pages, which unlike doorway pages, have full e-commerce functionality and relevant products designed to increase user satisfaction.
In-Christmas merchandising is everything:
6. Enrich your product descriptions – The idea behind enriching your product description for Christmas is to keep your products seasonal and on-topic as much as possible. First look at your descriptions vs. your competitors to ensure you haven't missed any important descriptive information. Second, if you've used terms such as "2008" or "summer sale" in your descriptions, replace those with "Christmas", "2009", "winter", etc., to stay on-topic. Another good idea is to go a step forward and explain why this product is great for Christmas.
7. Improve your product offering – Last year when you shopped around in your local mall or high street during Christmas, I bet you couldn't take your eyes of the red and in-your-face "SALE! SALE! SALE!" offers and signs. To really get the most out of the festive season, consider doing the same on your online store and improve your offerings. Offers such as "Buy 1, Get 1 Free", "Reduced to Clear" and many more will help you convert more traffic to active buyers.
8. Put your entire weight behind it – Whether your online store has been live for one year or one month, if you think about it, you're likely using some form of multi-channel marketing. The key to increasing revenue this Christmas could very well be your ability to mirror store and product offerings across all your marketing channel. For example, if your store offers "Buy 1, Get 1 Free" deals this Christmas make sure to list these in your paid search ads, communicate to your affiliates, list it across your site, mention in your customer base newsletter, etc.
Hopefully we'll all have a great Christmas this year!
So, how are you optimizing your store for Christmas? Tell us all about it in the comments below.
---
Are you getting enough value out of your small business website? Want to make sure your business makes the most of the local, mobile, social web? thinks helps you understand how to grow your business via the web, every day. Get more than just news. Get understanding. Add thinks to your feed reader today.
And while you're at it, don't forget to follow Tim on Twitter.
Image credit: Sister72 via Flickr using Attribution 2.0 Generic.

Technorati Tags:
a/b testing, affiliate marketing, call-to-action, continuous improvement, E-commerce, e-commerce, ecommerce, Google, internet business, internet marketing, landing page design, landing page optimization, marketing, marketing best practices, online marketing, page design, performance, search engine optimization, seo, testing