My favorite Google Analytics tip
Anyone who's been here before knows I've spent a lot of time thinking about the right ways to measure your website. It's also no secret that I think Google Analytics is an excellent website measurement option for many sites. But one thing has always baffled me about GA. By default, Google Analytics shows you your reports for a rolling 30-day period, ending yesterday. Which is great for seeing your baseline visits or visitors on the dashboard, like this:

The problem I have with Google Analytics' default display is that, for most reports, the tool doesn't give you very much context. You can see that the line is going up, but how much?
Thankfully, you can fix this easily. Just click on the downward pointing arrow to select your dates and check the "Compare to Past" box, as shown here: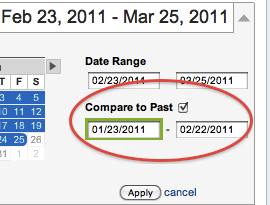 Now each report you look at will show you both your numbers for the current period, the numbers for the preceding period and the percentage change, and will look something like this: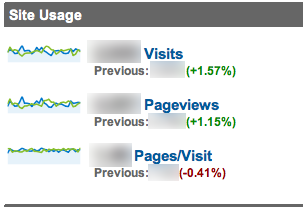 If the days of the week don't line up (i.e., Mondays to Mondays, Tuesdays to Tuesdays, etc.) in the default, go ahead and select a similar length prior period in the "Compare to Past" dates selector that lines up correctly.
Now, until you close GA, this will show you how you're trending for each of your reports. That way, as you dig into your data, you can see the results your efforts are producing.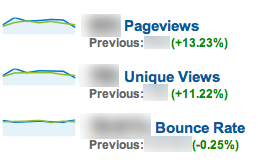 My only knock on this tip is I don't believe there's a way to set it as the default choice, which is a drag. But, given that it's only a couple of clicks, it's not a huge deal to configure each time you come into Google Analytics (or whatever your favorite analytics tool is). And, once you get used to seeing your data this way, you'll want to compare your results to the past. In fact, I wouldn't be surprised if it turns into one of your favorite Google Analytics tips, too.
---
Are you getting enough value out of your small business website? Want to make sure your business makes the most of the local, mobile, social web? thinks helps you understand how to grow your business via the web, every day. Get more than just news. Get understanding. Add thinks to your feed reader today.
And while you're at it, don't forget to follow Tim on Twitter.
Technorati Tags:
analytics, E-commerce, e-commerce, e-marketing, ecommerce, Google Analytics, how to measure anything, internet marketing, marketing, marketing best practices, measurement, metrics, online marketing