Smart companies use Twitter. Here's how.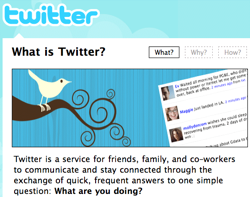 Michael Arrington at TechCrunch has great piece today about Comcast using Twitter to as an early warning system. Add this to your list of ways to get business value from Twitter.
Increasingly, businesses are using Twitter and learning about their customers from it. For instance, someone from Zappo's – they of the best customer service story ever – started following me on Twitter this past weekend (before I dropped a couple hundred bucks on shoes for me and my family). And I suspect I'll hear from them again.
It's become increasingly fashionable for people to claim Twitter is a waste of time or useless. But in practice it's increasingly useful as a tool for smart business folks to learn what their customers care about. If smart companies use Twitter, why don't you?
UPDATE: McNeil just learned a valuable lesson about Twitter with a failed commercial. You can read what they did wrong and how to avoid that here.
---
Are you getting enough value out of your small business website? Want to make sure your business makes the most of the mobile, social, local web? thinks helps you understand how to grow your business via the web, every day. Get more than just news. Get understanding. Add thinks to your feed reader today. Or subscribe via email.
And while you're at it, don't forget to follow me on Twitter.
Technorati Tags:
twitter, internet, marketing, web 2.0, tweets, social media, microblogging, social networking, tweet, zappos, zappos.com, business, customer service