The ACSI 2010 Results Are In: What the Numbers Mean for You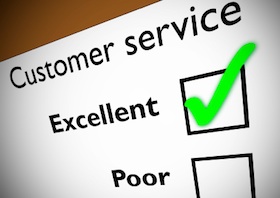 The American Customer Satisfaction Index's E-Commerce Report, produced in partnership with ForeSee Results, came out today and shows that customer satisfaction with e-commerce websites fell 2.6% to 79.3 on the ACSI's 100-point scale. That's the lowest score since 2004. That's not good.
According to ACSI,
"…falling satisfaction with online retail pulls down aggregate satisfaction with the e-commerce sector overall, which also includes online brokerage and online travel."
But the news isn't all bad. Claes Fornell, ACSI's founder and a University of Michigan Ross School of Business professor says,
"Satisfaction with e-commerce and retail is off from a year ago overall, but the individual company results are mixed, and some organizations manage to find ways and resources to improve the customer experience. Still, any downward pressure on satisfaction does not bode well for sustained spending growth at a time when the economy could use it." [Emphasis mine]
When I saw the data, I wondered first whether this decline represented, at least in part, customers' increased expectations for their e-commerce experience.
And, yet, the movement within the individual categories suggests otherwise.
Companies as diverse as Overstock, Amazon, Netflix, Expedia, Exchange, Sears and Whole Foods did very well year-on-year. These companies don't seem to be suffering due to anyone's increased expectations—or are managing to meet/exceed those expectations in any case. Professor Fornell's comment above is spot on: The drop in overall satisfaction hurts everybody online to some degree, but it's clear that you can satisfy your customers if you work on it.
Here are some of the other "highlights" from the report:
Satisfaction with e-commerce is down 3% since last year to 79.3 on ACSI's 100-point scale, its lowest level since 2004.
The drop in the overall e-commerce sector score is driven by a big decline in e-retail.
The e-retail industry, always the strongest within the e-commerce sector, falls 3.6% to 80, a drop that is largely driven by the "all others" category, which dives 6% to 78. Amazon passes Netflix for the top spot.
The online travel industry reaches a new all-time high aggregate score of 78. Increases by Travelocity and the "all others" category more than offset declines by Orbitz and Priceline. Expedia maintains the number one spot with a score of 79.
The online brokerage industry remains flat at 78, but Charles Schwab overtakes Fidelity for the top spot for the first time since 2006. E*TRADE has climbed an impressive 10 points since 2000.
Satisfaction with mobile commerce (use of mobile apps and websites accessed via mobile phone) for e-retail, online brokerage, and online travel is included for the first time in this report. At 81, online brokerage leads satisfaction with mobile commerce. Retail and travel tie the industry aggregate at 75.
Take a look at the numbers in more detail and then look at your own online efforts. What are they doing that would work for your customers—and you can offer? As I mentioned yesterday, "you can choose to offer limited service, fewer features, tiered pricing—and still succeed."
As the data above shows, customer satisfaction depends on a number of factors. You can pay attention to the leaders to learn some of those factors. Or you can pay attention to your customers to learn them all.
---
Are you getting enough value out of your small business website? Want to make sure your business makes the most of the local, mobile, social web? thinks helps you understand how to grow your business via the web, every day. Get more than just news. Get understanding. Add thinks to your feed reader today.
And while you're at it, don't forget to follow Tim on Twitter.
Technorati Tags:
Amazon, continuous improvement, customer service, E-commerce, e-commerce, ecommerce, internet business, internet marketing, kaizen, marketing, marketing best practices, performance, strategy, success, customer satisfaction, american customer satisfaction index, ACSI, Netflix, E-commerce strategy, e-commerce satisfaction