The downside of social media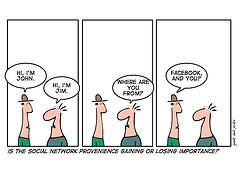 It's no secret that I believe in social media for growing your business. Most businesses have more to gain than they have to lose. But, you've got to remember that once you're "out there" in the social space, your customers, followers, subscribers and "friends" expect you to be a good friend.
We've all heard the horror stories of people losing clients, customers (see the Ryanair story), job offers and jobs over indiscreet use of social tools. Which goes to show, nothing in social media protects you from being publicly stupid.
So, why take the risk?
Because your customers are talking about you, too. So are your employees. Sometimes to each other. If you're worried about what to say, at least take the time to listen. Let listening lead to dialogue. And let that lead to engagement.
Not sure what to do next? Well, for starters, take a look at who does it well. For instance, Mashable offers a list of the 10 smartest big brands in social media. Peter Kim offers up tons of examples, too. And we've got loads of social tips right here on thinks.
So, yes. Social media has its downside. But pretending that it doesn't exist is a strategy for failure. Engaging with customers and sharing in the dialogue shows you listen, you respond and you care.
What did I miss? Does social have other downsides – or upsides – I left out? Tell us about in the comments.
---
Are you getting enough value out of your small business website? Want to make sure your business makes the most of the local, mobile, social web? thinks helps you understand how to grow your business via the web, every day. Get more than just news. Get understanding. Add thinks to your feed reader today.
.
And while you're at it, don't forget to follow Tim on Twitter.
Image credit: Geek & Poke via Flickr using Creative Commons Attribution No Derivative Works 2.0 Generic.
Technorati Tags:
business blogging, e-marketing, facebook, Facebook, internet business, internet marketing, marketing, online marketing, social, social marketing, social media, social strategy, strategy