The single best way to get more sales (Guide to Small Business Ecommerce Strategy)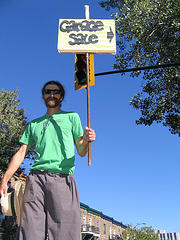 You want the single most effective way to get more sales? Regardless of whether you conduct your business online or offline, the process is simple. Ask for the sale. Every interaction with your customer should be another step towards closing the sale. Look at your website that way. Do you have a clear call-to-action? No, really. Is it clear? Is it simple?
Fred Wilson tells a story about a pitch received via email that never asked him to invest. So he didn't. Funny how that works, no?
Seth Godin shows how Borders books uses merchandising to ask for the sale. Since they can't stock every book, they've been more effective showing the books they do have. But even Seth can learn how to ask for the sale more effectively.
It's very simple. For example, I want more subscribers for this blog. You can subscribe to this blog by clicking this link.
Painless, no?
Take a good long look at your website and at the actions you want your customers to take. Better yet, get a stranger to take a look. See if they know:
What you offer
How to take you up on that offer
If they can't answer one – or, God forbid, both – of those questions, that's where you can start to improve your sales.
What's working best for you? How do you ask your customers for the sale, online or offline? Tell us about it in the comments.
---
Are you getting enough value out of your small business website? Want to make sure your business makes the most of the local, mobile, social web? thinks helps you understand how to grow your business via the web, every day. Get more than just news. Get understanding. Add thinks to your feed reader today.
And while you're at it, don't forget to follow Tim on Twitter.