This week's signs of the mobile, local, social web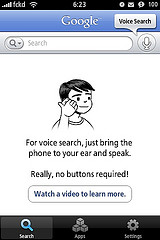 As long-time readers know, we here at thinks predict big things for the local, mobile, social web. Your customers increasingly use these tools to satisfy their needs.
For instance, a study by comScore shows 51% of mobile users searched for local info via their phone. What are they searching for? The following table shows that the biggest growth areas have been directories, restaurants and maps.
Growth in Local Mobile Content by Genre
Three-Month Average Ending March 2009 vs. March 2008
U.S. Mobile Subscribers Age 13+
Source: comScore Mobile
Local Mobile Content Genre
Y/Y Percent Change
Online Directories
73%
Restaurants
70%
Maps
63%
Movies
60%
They're looking up directories of information. Maps. Phone numbers. Addresses. Directions. In other words, your customers are lost and have found these tools help them find you.
Or, worse. Your competitors.
How can you ensure customers find you?
If you don't have your own website, get one. While it's getting a bit long in the tooth, our comparison of free hosting tools offers several options for your first site. And our "How To Build Your First Business Blog" series can help you build a blogging presence, too.
Don't be invisible. Ensure you have a solid presence online that lets customers find you, browse you and reach you. And make sure you do the same on social sites like Facebook, LinkedIn and Twitter. You'd be amazed how many people don't. For instance, according to HubSpot's new State of Twitter report:
79.79% [of people on Twitter] failed to provide a homepage URL
75.86% of users have not entered a bio in their profile
68.68% have not specified a location
54.88% have never tweeted
Follow web standards that let customers view your content, no matter where they are.
Why do these ideas matter? Sure, the numbers above are compelling. But businesses are seeing the results, too. A friend recently launched a new mobile site for his business and got a 3% lift in daily sales – and they haven't begun to promote the site yet.
As William Gibson has said, "The future's already here. It's just not evenly distributed." Expect these trends to continue. Because your customers are already living in the future. The key question is, are you?
---
Are you getting enough value out of your small business website? Want to make sure your business makes the most of the local, mobile, social web? thinks helps you understand how to grow your business via the web, every day. Get more than just news. Get understanding. Add thinks to your feed reader today.
And while you're at it, don't forget to follow Tim on Twitter.
Image credit: Robert Nelson via Flickr using Creative Commons Attribution 2.0 Generic.
Technorati Tags:
android, blogging, blogs, business blogging, e-marketing, facebook, Facebook, Google, google, Google Latitude, internet business, internet marketing, iphone, mobile, online marketing, search, search engine marketing, search engine optimization, sem, seo, social marketing, social media, social strategy, solutions, strategy, tools, twitter, web hosting