What every small business needs to know about Google's antitrust investigation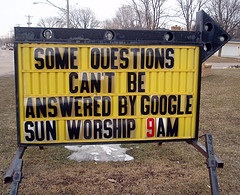 Just as Google announces it's working to sell TV ads for NBC Universal, the Wall Street Journal reports the U.S. Justice Department has hired a lawyer to investigate Google for antitrust violations in its advertising business. We're not going to examine the merits of the case itself. Instead, we're going to look at what such an investigation means to you and your business.
Whether the case has merit or not – and at this point, calling it a "case" is premature – doesn't matter. Companies under investigation – or post-investigation sanction – by the U.S. government inevitably lose focus. The Microsoft-DOJ battle of a decade ago, and its aftermath, shows what happens after companies go through these sorts of distractions. Not only did Microsoft's product introductions lag during the immediate period following the case, young competitors suddenly found the will to enter markets Microsoft once ruled. What happened as a result? Microsoft, while still a massive player in the technology space, isn't the immovable object/irresistable force it once was: Google is. Or is it only coincidental both the antitrust action against Microsoft and Google celebrate tenth anniversaries this year? For that matter, Microsoft itself emerged as a dominant player in the aftermath of the U.S. antitrust case against IBM of the 1970's.
Google may already be showing heightened concerns of government action. The company has announced several changes to its privacy practices in just the last few days (here and here), potentially to deflate government concerns about harm to consumers. But I wouldn't be surprised if the government is swayed by arguments like Nick Carr's,
"…Google collects more data on consumers' needs and behavior and can tailor its ads more precisely, strengthening its competitive advantage and further increasing its income …[Even its beta products increase this effect] by generating advertising revenue and producing valuable data on customer behavior."
Why should you care?
Small, niche-focused businesses will always need search for a chunk of their business. It's inevitable. As customers increasingly turn to search as their first source to find what they're looking for, your business' results will depend, in some part, on search. Unfortunately, due to its dominance in the search space, when Google sneezes, thousands of small businesses catch cold. The question is, is it time for you to get a flu shot?
Yes. And no.
Even if this thing turns into a real case, and a real distraction for Google, alternative search engines likely will fill the void. As noted above, these actions usually result in new players coming on the scene. So, continue to make sure your company's site shows up in search results. But, also consider how much of your business should come from search (see Mike Moran's thoughts, too). And how much search comes from Google. If all your eggs are in Google's basket, it's time to get some other baskets, too.
---
Are you getting enough value out of your small business website? Want to make sure your business makes the most of the local, mobile, social web? thinks helps you understand how to grow your business via the web, every day. Get more than just news. Get understanding. Add thinks to your feed reader today.
And while you're at it, don't forget to follow Tim on Twitter.