What the Marines can teach you about social media marketing (Guide to Small Business E-commerce Strategy)
Do you still think social media marketing is not ready for your business? Worried that it might not meet the needs of your customers? Then you might be surprised to learn how the United States Marines and U.S. government are using social media to connect with their audience.
For starters, DMNews has an article in its August 4 edition (not available online yet), looking at how the Marines' Internet marketing efforts uses MySpace and a targeted site, Our.Marines.com, to connect with potential recruits. The our.marines.com site, in particular, does an excellent job appealing to the emotional, telling compelling stories of personal growth and letting visitors easily embed those stories in their MySpace or Facebook pages. Clearly the Marines understand a great way to get customers to care in your product is to let other customers tell them why they should.
Forrester analyst and social media strategist Jeremiah Owyang also looks at the Marines MySpace experience, noting "MySpace is the top viewed website in North America –there's no surprise that the USMC is using this as a marketing platform." And Mike Taylor at the Online Recruitment Blog (an HR recruiting blog) talks about how "…the military tends to be an early adopter of new recruiting tactics." It's well-known in business circles that the military is excellent at finding ways to communicate complex topics to young people quickly. How do you think they take high school graduates and turn them into radar operators, logistics specialists, medical corpsmen or helicopter mechanics in a matter of months? This is another example. Adopting social media tactics allows you to talk to your customers directly, in places they are comfortable, just like the military is doing.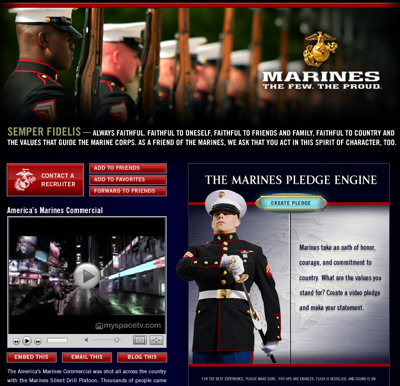 And now some members of Congress are getting in on the act. Read/Write Web takes a quick look at some John Culberson's (R-TX) use of social video site Qik and Twitter to interact with his constituents. And we've looked at how some of the presidential campaigns have used social media here in the past.
While I suppose the more cynical among us might question why we'd want to do anything government thinks is a good idea, military recruiters and politicians recognize their customers (potential recruits and voters) are using these tools.
Do you connect with your customers using social media? Tell us what you're doing in the comments.
---
Are you getting enough value out of your small business website? Want to make sure your business makes the most of the local, mobile, social web? thinks helps you understand how to grow your business via the web, every day. Get more than just news. Get understanding. Add thinks to your feed reader today.
And while you're at it, don't forget to follow Tim on Twitter.