What's the Biggest Mistake You Can Make?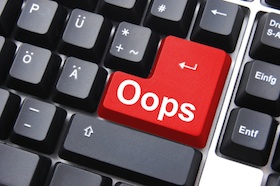 I made a mistake today. Actually, I make mistakes every day. So do you. Hopefully, they're small ones. But, the biggest mistake anyone can make, ever, is not learning from that mistake. Making the same mistake, especially more than once, is not so good.
Or, as the old quote goes,
"It's one thing to shoot yourself in the foot. It's another to reload and keep firing."
The other big mistake, is letting that one misstep stop you in your tracks. Mistakes happen. But, as long as it doesn't involve the words "terminal" or "indictment," it's probably not that big a deal. (An old friend taught me that one. It's still the best advice I ever got).
Ideally, you'll learn from others' mistakes and not your own. But, even the best of us are going to commit plenty of blunders along the way.
Did you make a mistake recently? It's going to be OK. Pick yourself up, dust yourself off, take a look behind you to learn what you can do in a new way the next time. Then start going again. Yes, you'll probably invent brand new mistakes. But that's where the best learnings come from. Which, if you think about it, is something to look forward to. Enjoy the ride!
---
Are you getting enough value out of your small business website? Want to make sure your business makes the most of the local, mobile, social web? thinks helps you understand how to grow your business via the web, every day. Get more than just news. Get understanding. Add thinks to your feed reader today.
And while you're at it, don't forget to follow Tim on Twitter.
Technorati Tags:
achievement, continuous improvement, creativity, goal setting, goals, how to be creative, ignore everybody, leaders, leadership, objectives, performance, success, training, vision, learning