Why leadership and teamwork go hand-in-hand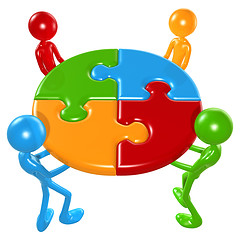 Three news items have rightly dominated headlines the last few days in the US:
The narrative of each of these events focuses – also rightly – on a single individual; President-elect Barack Obama, the Reverend Martin Luther King, Jr, Capt. Chesley Sullenberger III. Each accomplished something extraordinary. And, taking nothing away from the accomplishments of the individuals, all also demonstrate how successful we are when we work towards a common purpose, a common goal. Obama's run to the presidency was propelled as much by the grass-roots organization supporting him as it was his stirring oratory or pragmatic policies. Dr. King's historic "I Have a Dream" speech was one part of the larger March on Washington for Jobs and Freedom, with more than 200,000 people pushing for needed change. Captain Sullenberger's heroic landing was one part of a highly successful rescue effort involving flight attendants, air traffic controllers and, of course, the ferry boat captains and crew who fished passengers from the frigid Hudson.
What do these stories have to do with business? There is no question that businesses – small and large – face tough times right now. But tough times never last. Particularly in the face of a united effort. No one is in this on their own. Not the President-elect. Not Dr King. Not Captain Sullenberger. And not you. Your team, your staff, your employees all look to you to tell them where to go. and are ready to help you get there. Look at how you can help one another. That's what strong leaders do.
---
Are you getting enough value out of your small business website? Want to make sure your business makes the most of the mobile, social, local web? thinks helps you understand how to grow your business via the web, every day. Get more than just news. Get understanding. Add thinks to your feed reader today. Or subscribe via email.
And while you're at it, don't forget to follow me on Twitter.
Image credit: lumaxart via Flickr using Creative Commons Attribution-Share Alike 2.0 Generic. Lumaxart images available here.
Technorati Tags:
achievement, goal setting, goals, leadership, success, teamwork