Luck of the Irish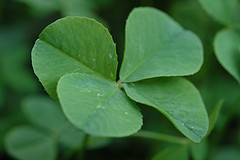 My mother loved St. Patrick's Day. It was her favorite holiday. Why? Because it was a day to celebrate our heritage, the heritage of a resilient people.
Sure, the Irish often get credit for being lucky, but luck – whether or not you're Irish (and who isn't Irish on St. Patrick's Day?) – comes from how you react to what happens to you. When you consider the history of Ireland, it's tough to say that the Irish were alway lucky. But the image persists, likely because of how they responded.
So much of what we consider luck boils down to 2 things:
Goals. You've got to know where you want to end up. The most successful people, the ones we all consider lucky, are those who get to do what they love. What could be more lucky than that? Do you know what that is for you? Where you plan to be down the road? History is made by those who choose to make it.
Persistence. As one of my greatest teachers used to say, "90% of life is just showing up." Once you know your goals, you've got to work towards them every day, without fail. It isn't always easy. But giving up guarantees failure. At least when you work at it, you have a shot at getting lucky.
No one in business is just "lucky." Sure, trying to survive – let alone thrive – in tough economic conditions isn't as easy as it was when times were good. And you certainly can't control everything that happens to you along the way. So, I guess you could consider what's going on now bad luck. But, you can always control how you react to it and whether you choose to keep trying to accomplish your goals. The luckiest people in the world tend to be those who don't give up on their goals. Or on themselves.
Do you think you're lucky? Have you found a way to succeed in this market? Tell us about it in the comments.
---
Are you getting enough value out of your small business website? Want to make sure your business makes the most of the local, mobile, social web? thinks helps you understand how to grow your business via the web, every day. Get more than just news. Get understanding. Add thinks to your feed reader today.
And while you're at it, don't forget to follow me on Twitter.
Image credit: cygnus921 via Flickr using Creative Commons Attribution 2.0 Generic.
Technorati Tags:
achievement, goal setting, goals, leadership, objectives, skills, solutions, luck, st. patrick's day, st patricks day, st patrick day, irish, luck of the irish