WordPress blogging on the iPad? Um… I don't think so.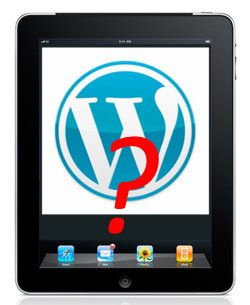 I've been talking about the iPad off and on for the last week, first looking at what it means for your business, then responding to a reader who suggests that I may have missed the boat on this one. Yesterday, I got an email from another reader who asks,
"I travel a lot for my job, but want to update my blog when I'm on the road. Does the iPad work for an active blogger?"
This is a tough one. I'm a big fan of the iPad, but I haven't been impressed by its support for blogging, which is a shame, because with built-in WiFi and 3G, it's a great format for posting on the go. Unfortunately, the iPad WordPress app is, I'm afraid, laughably bad, with no HTML support to speak of, limited image capabilities and poor use of the screen real estate. Others disagree, though acknowledge "We'd like to see a WYSIWYG editor…" I'd settle for a button to insert a link (!).
Candidly, the WordPress app for Android installed on my Droid X is a better blogging tool despite the far smaller screen and I haven't found an iPad blogging app I like. What I have found useful is Evernote, a cross-platform note-taking tool that I've used for years for basic note-taking. Evernote seems to make better use of the screen and, due to its synching capabilities with the desktop, allows me easy copy and paste posts into my regular blog editor when I get back to a full-size computer. It, too, lacks an HTML shortcuts and image capabilities, but it uses the screen so much more efficiently that I at least can get my writing done. I've also found Pages for the iPad useful, but still prefer the way Evernote allows me to access my text when I get back to my main computer.
The other place I don't like the iPad has more to do with my style of writing. I tend to have a number of links per post, typically copied from multiple Firefox, Chrome or Safari tabs and captured within a clipboard manager like Jumpcut. While Safari on the iPad allows for up to 9 different pages at once, its reloading time and lack of multitasking when switching between the browser and whatever editor I'm writing in drives me nuts in practice.
I realize none of this comes off as a glowing recommendation for the iPad as a blogging tool. On the other hand, Mashable seemed to like it when they first tried it. Maybe it's just me. What do you think? Have you tried blogging from the iPad or found an app that works really well? Please post a comment and let me and your fellow thinks readers know.
---
Are you getting enough value out of your small business website? Want to make sure your business makes the most of the local, mobile, social web? thinks helps you understand how to grow your business via the web, every day. Get more than just news. Get understanding. Add thinks to your feed reader today.
And while you're at it, don't forget to follow Tim on Twitter.
Technorati Tags:
android, blogging, blogs, business blogging, ipad, wordpress.com, wordpress.org, WordPress