3 Keys to Compete with OTA's in 2015 and Beyond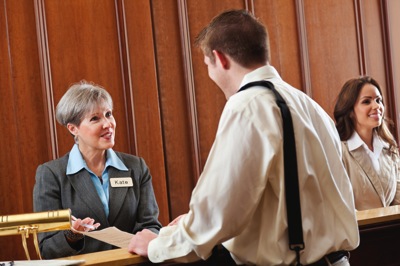 Management companies, chains, and property owners alike often ask me for advice on how to compete with OTA's, a very fair question in a world where guest acquisition costs continue to rise and loyalty continues to decline.
First, it's worth noting that I remain convinced that OTA's provide a valuable service to hotels and guests alike, and, used properly, remain an important part of your overall distribution strategy. And, given their deep pockets and broad reach, taking OTA's on head-to-head is a losing strategy for all but a very few. At the same time, recent moves by OTA's around engaging with guests throughout the travel experience threaten to undermine the essential relationship between property and guest. There's absolutely nothing wrong with working with OTA's where it makes sense and also wanting to hold them at arm's length.
How do you do that?
Simple. Here's how.
Recognize that the world has changed
On average, you host more devices in your rooms each night than you do guests. With most guests carrying at least a mobile phone, tablet, or laptop while traveling—and, according to SITA, 1 in 5 carrying all three—your guests live in an always-on, ever-connected world. We've long since passed the time to take mobile seriously. Today, it's a simple fact of life. OTA's recognize this fact and have invested heavily in mobile platforms to support guests throughout their journey. To the best of your abilities, you must do the same.
For example, your guests can and will find the information they need to satisfy their needs and enjoy their trip, with or without your help. Even if you employ the most brilliant concierge or friendly front desk staff, your guest carries an ever ready concierge in his pocket. Set up your Wifi login screen with links to relevant, helpful information about the services and amenities your guests need to support and enhance that behavior.
And, please, don't try to block your guests' access. Y'know, hypothetically. It's poor hospitality and, as some are learning, even worse business.
Build an actionable guest database
I've mentioned before nothing reinforces your brand value proposition as much as your guests' overall experience when dealing with your hotel. And that the data you have available to you provides a strategic differentiator; your competitors simply don't know—can't know—everything you do about the guests who research, book, and stay with you.
And, if you already have a good collection of guest data, great. Now think about this:
How many people on-property can actually put that data to work to help your guests?
Does room service know that your guest's daughter is vegan? Does housekeeping know that the business traveler in 318 has a nut allergy and should receive a different turn-down amenity?
Does your front desk associate know that the couple arriving tonight is on their first getaway in years without the kids and really doesn't want to be disturbed?
Creating an active, actionable database about your guests—and potential guests—offers you the best opportunity to talk directly with customers and limit your reliance on third-parties. And, by leveraging that data to provide a higher level of service, drive repeat stays from highly-satisfied guests.
Clearly, you need to ensure that you protect your guests' privacy while also freeing relevant data for use among your staff. But OTA's are already beginning to explore and experiment with mobile services to aid guests while on-property. Shouldn't that be your job?
Encourage guests to share their great experiences
Your guests have built a large collection of friends, family, fans, and followers across their many social networks. Now, I think we've all learned that social hasn't lived up to its billing as the "end all, be all" of marketing. But, we've also all learned that your guests sure do like to talk about their trips with the people they're close to. And even some folks they're not so close to. Why not encourage them to talk about you in a meaningful, positive way?
You know what makes that happen? Great experiences driven by deep guest insights in a world of constant connectivity.
The simple reality is that "beating" the OTA's isn't about fancy booking engines, clever marketing campaigns, or shrewd distribution agreements. It's about meeting and exceeding guest expectations, using technology to forge meaningful relationships, and enlisting guests in the process of telling your brand story to their friends and family.
In other words, it's about hospitality.
Interested in learning even more about the future of hospitality e-commerce and marketing via the social, local, mobile web? You should register to receive a special report I've produced in conjunction with hotel marketing firm Vizergy, "Digital Hotel Marketing in a Multiscreen World." Developed specifically for hotel and resort marketers, the lessons can help your business adapt to the changing guest environment. You can get your free copy of the report here.
And take a moment to review the slides from my recent webinar, "Digital Marketing Directions 2015: Three Key Trends Driving Your Hotel Marketing Next Year" here:
Finally, you might also enjoy some of our past coverage of the social, local, mobile web and what it means for your business, including: