4 ways to make the most of a social media firestorm
Many companies worry about customers taking over their brand using social media. Some do it well. Some, not so much.
Now comes the story of "United Breaks Guitars," which details one Dave Carroll's less-than-stellar customer service experience with United Airlines. It's one of the most popular videos on YouTube right now with some 5 million views – and counting. But, if you look closely, you'll see a brilliant case of a company using social media to their advantage. Here are the search results on YouTube for "United Breaks Guitars."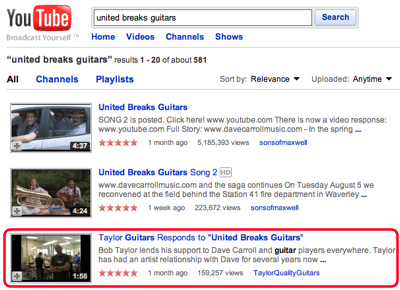 Sure, the first two results are the song and its sequel. But notice the third item? Taylor Guitars manufactures high-end guitars, including Dave Carroll's United-mangled acoustic. The company has realized the value of the social and mainstream media-driven buzz around Dave Carroll's campaign and responded with its own information on how to take care of your guitar while traveling.
In case you haven't seen it, here's Taylor's response:
Now the cynical might say, "Well, yeah. They're only making the most of a popular trend, being opportunistic. We do that all the time." But, it's how they're doing it that matters. Taylor responded in a way that's appropriate to both their customers and their brand.
Why is it working so well? Simple. Taylor's response is:
Relevant – The most viewed video on YouTube in the past month is called "Fred Sees a Therapist." Why didn't Taylor try to rank well on YouTube for that? Because, it's not relevant to their brand and they're not relevant to "Fred's" audience. Marketers who try only to jump on hot trends "because that's what the kids are all doing" waste time and money chasing smoke. You don't need to respond to every hot item out there. Find and follow the trends that matter.
Timely – Taylor didn't wait 6 months to put this out. They had their message up on YouTube within a few days of Dave Carroll's much-watched video. Sure, the production values might not be perfect. But their message is perfectly clear.
Helpful – Taylor didn't start with a sales pitch. They started with offering help to their customers. "Need to know how to travel with a guitar?" they asked. Then they answered that question before pitching their guitar repair service. Very helpful. Very caring. And very smart.
Action oriented – Finally, Bob Taylor said, "You wouldn't believe the things that we can fix here. It's amazing… So give us a call. We're here to help you. We're here for all guitar players. That's what we live for." Then comes the phone number and the URL. Powerful. Simple. Brilliant.
And it looks like it's working. Here's Taylor's traffic for the last year, according to Compete:
A 72% increase in unique visitors. An 80% increase in visits. That's simple, powerful and brilliant, too.
Next time you wonder about the power of social media, don't just think of United Breaks Guitars. Think of the guys who fix them, too.
Hat tip: Thanks to Steve Rubel for reminding me about the United Breaks Guitars video the other day. Oh, and just for fun, here's the video that started it all:
---
Are you getting enough value out of your small business website? Want to make sure your business makes the most of the local, mobile, social web? thinks helps you understand how to grow your business via the web, every day. Get more than just news. Get understanding. Add thinks to your feed reader today.
And while you're at it, don't forget to follow Tim on Twitter.
Technorati Tags:
business, call-to-action, e-marketing, Google, internet business, internet marketing, marketing, online marketing, social, social marketing, social media, social strategy, YouTube, United Breaks Guitars, marketing best practices