5 New Year's Resolutions we all can live with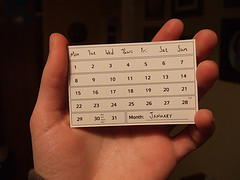 Yep. It's that time of year again. If you're like me – or many other people – this is when we sit down and figure out what we want to improve in the next year. And while you can make huge long lists of things to do, successful goal-setting requires limiting that list to a manageable number. I like 5. You might like 3. Or 1. The point is to pick a number you can live with and stick to it. And, if you can convert them to habits to roll into one large resolution as LifeHacker suggests, all the better.
Here's my list:
Dedicate yourself to your business. Whether you're looking to launch a business from scratch this year or just want to improve how effective your meetings are, we can all get better at our business. We spend half our waking hours at work. Why not make sure we're focused on doing the right things and doing them right? A great tip: Forget about adding more; stop doing things that don't add value.
Take care of your health. My birthday falls just before Christmas, so every New Year literally equates to another year older for me. Life is a marathon, not a sprint, so it's best to build up the endurance for it. For me, it's going to be working out an hour a day, six days a week. You might prefer biking, hiking or running 5K per day. Whatever works. Still, it's good to get to it. Need help? Sites like DailyBurn and Lance Armstrong's LIVESTRONG.com offer some great tools and tips.
Reconnect with family and friends. Don't neglect your original "social network." I've blocked an hour on my calendar two Fridays a month for making phone calls/sending emails to people I want to stay in touch with. That's a habit I can live with. And live better with.
Make some plans for the future. I'm a big fan of goal-setting. Huge fan, actually. And research suggests people who choose a purpose in life live longer than those who don't. So make some plans. Then get to 'em.
Have some fun. Business can chew you up if you let it. Lighten up a bit. As mentioned above, life is a marathon, not a sprint. You may as well enjoy the ride. Plus, there's an added benefit. As Plato said,


"You can discover more about a person in an hour of play than in a year of conversation."

If that person you discover so much about is yourself, so much the better, eh?
These are my resolutions for the New Year. What are yours? Tell us in the comments below.
---
Are you getting enough value out of your small business website? Want to make sure your business makes the most of the local, mobile, social web? thinks helps you understand how to grow your business via the web, every day. Get more than just news. Get understanding. Add thinks to your feed reader today.
And while you're at it, don't forget to follow Tim on Twitter.
Image credit: Joe Lanman via Flickr using Attribution 2.0 Generic.
Technorati Tags:
continuous improvement, goal setting, goals, leadership, objectives, success, vision