Amazon launches TextBuyIt – Shop via mobile phone
In my price transparency presentation last week, I mentioned how mobile was going to shatter price transparency. (Audio transcript of presentation coming next week).
Amazon now allows customers to buy from their mobile phones, too.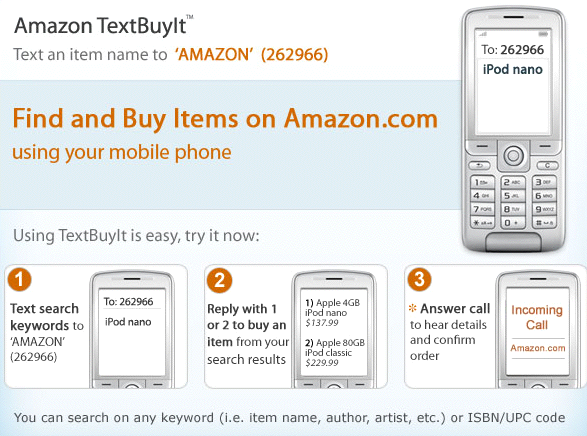 Imagine a customer standing in your store who decides to check your prices against Amazon – or another competitor using something like Slifter. Are you ready to close that sale? Or does your customer buy with their mobile – while standing in your store? Competing on price alone isn't enough. Can you satisfy your customers needs across the board?
Kudos to Whitney Hess for pointing this out via Twitter this morning and doing a great review of TextBuyIt.
[Full disclosure: I'm an Amazon affiliate, but, so far as I know, Amazon isn't offering this as an affiliate service currently.]