Are Daily Deals Sites Really a Good Deal for Your Business?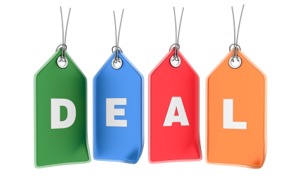 Everyone loves a great deal, don't they? Which helps explain the popularity of daily deals sites among consumers—and among investors. But merchants increasingly find daily deals sites troubling, often resulting in failing promotions, frustrating customer interactions, and falling profits.
But is it necessarily true that daily deals don't work? I certainly don't think so. Savvy merchants make the most of daily deals through four key tactics, which is the focus of my latest post at Mike Moran's Biznology blog, "Are Daily Deals Sites a Good Deal for Your Business?"
---
Are you getting enough value out of your small business website? Want to make sure your business makes the most of the local, mobile, social web? thinks helps you understand how to grow your business via the web, every day. Get more than just news. Get understanding. Add thinks to your feed reader today.
And while you're at it, don't forget to follow Tim on Twitter.
Tim Peter & Associates helps companies from startups to the Fortune 500 use the web to reach more customers, more effectively every day. Take a look and see how we can help you.
Technorati Tags: Biznology, e-commerce, e-commerce satisfaction, e-marketing, Groupon, integrated marketing, internet marketing, marketing best practices, mike moran, online brand building, online marketing, daily deals, coupon, coupons