How to Choose the Right Daily Deals Site for Your Business? Look at Market Segment (Big List of Deals Sites)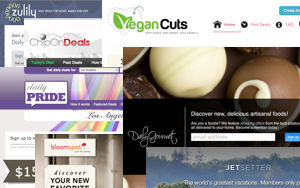 My post yesterday over at Biznology asked whether daily deals sites are a good deal for your business. And, while not trying to spoil the answer for you (no, really, go read the post), I can tell you one secret to getting the best deal from deals sites is working with niche sites that are effective at targeting the customers you want to talk to.
Now what do I mean by "niche sites?"
Take a look at the following list of targeted deals sites. While it doesn't cover every niche out there (or even every site within those niches), it illustrates the variety that exists in the deals space):
Moms/Families
Foodies/Wine Enthusiasts
Luxury Travelers
Fashionistas
Tech/Geek Community
Jewish Market
Christian Market
LGBT Market
"Manly" Men
Art/Design Shoppers
Health/Wellness Market
Pet Owners
Senior Citizens
Vegans
Golfers
Notice that each of these represents a distinct, well-defined, and, most importantly, self-defined customer segment. Customers receiving offers from the sites listed here deliberately signed up for offers targeted to the needs of their community. And they want to hear from companies interested in addressing those specific needs. Hell, there's even a site dedicated just to people who live in Austin, TX. Seriously.
Sure, not all of these are appropriate channels to reach your target customers. In fact, as I mentioned yesterday, even those that talk to the right people may not be a good fit for your needs for other reasons.
But, if daily deals make sense for your business, don't assume the "big boys" of the deals space are the only game in town. It just might be that your target market—and your bottom line—is better served by a niche player.
---
Are you getting enough value out of your small business website? Want to make sure your business makes the most of the local, mobile, social web? thinks helps you understand how to grow your business via the web, every day. Get more than just news. Get understanding. Add thinks to your feed reader today.
And while you're at it, don't forget to follow Tim on Twitter.
Tim Peter & Associates helps companies from startups to the Fortune 500 use the web to reach more customers, more effectively every day. Take a look and see how we can help you.
Technorati Tags: daily deals, e-commerce, e-commerce satisfaction, e-marketing, ecommerce