Are you "shovel-ready?" 5 tips for increasing your online business right now.
Are you "shovel-ready?" 5 tips for increasing your online business right now.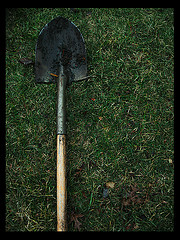 So much talk lately about "shovel-ready" projects, with local governments lining up for their share of the federal largesse. Why should they have all the fun? The government gave priority to those items that will show the quickest return. You should do the same. So what should you do?
Landing page tune-up. As Jake Minturn at Rimm/Kaufman has mentioned – to say nothing of Tim Ash – you need to give your customers clear actions of what you want them to do next. Find the most visited page on your site with the highest bounce rate. Plug the hole. Repeat.
Offer test. What sorts of things should you try to plug the hole? A/B test several offers – each trying to improve your pitch – using coupons (or at least a coupon code) to see which ones drive the greatest foot traffic, call volume, or conversion on your site.
Headline test. While trying alternative offers, pick another of your most visited pages and test different headlines focusing on different combinations of benefits. Want to know which benefits to highlight? Look into your keyword data.
Ad copy test. Need more customers? Well. Duh. OK, then. Test different copy options to improve click-through rate. (Couple with item #1 above for best results).
Referral bonus. Your existing customers are your best asset. How can you put them to work for you? How many new sales do you need to cover the cost of a $25 value add or a 10% discount? Offer a benefit or discount to existing customers for referring new business. You stand to win new customers and increase loyalty among your existing ones.
None of these require a major redesign or huge investment in untested media. All are "shovel-ready" right now. Remember the old rule, "If you find yourself in a hole, first you should stop digging." So break out your shovels and let's get going.
---
Are you getting enough value out of your small business website? Want to make sure your business makes the most of the local, mobile, social web? thinks helps you understand how to grow your business via the web, every day. Get more than just news. Get understanding. Add thinks to your feed reader today.
And while you're at it, don't forget to follow me on Twitter.
Image credit: =.-0= via Flickr using Creative Commons-No Derivative Works 2.0 Generic.
Technorati Tags:
a/b testing, call-to-action, e-marketing, internet business, internet marketing, landing page design, landing page optimization, marketing, online marketing, page design, ppc marketing, search, testing