Amazon shuts down some affiliate marketers and what you can learn from it
Amazon shuts down some affiliate marketers and what you can learn from it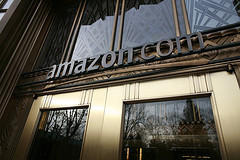 Amazon announced today that beginning May 1 members of their affiliate program will no longer be allowed to direct link pay-per-click programs to Amazon.com,

Amazon.ca or Endless.com. My only question is, "what took them so long?"
Given the effectiveness and relative simplicity of paid search, I'm surprised Amazon hadn't done this years ago. Sure, today Amazon benefits from affiliates buying long-tail terms that might fall beneath their radar, but given the spreads at play here, they've been leaving a fair bit of money on the table. Amazon pays out anywhere from $0.20 to several dollars for each affiliate commission. Their affiliates likely pay between $0.05 and $1.00 for each click. Amazon can manage those same terms themselves and keep the difference on each sale.
More important, Amazon lowers its overall paid search cost. How's that? Because they're now not bidding against their affiliates – or having to police those breaking the rules – for the same terms. And that's why you should care. Who else – apart from your competitors – is buying your terms? How can you work with them to ensure you're not bidding up one another's costs? Under the old arrangement, the only winner was Google, as multiple companies drove up cost per click. As we looked at last week, sometimes the best play to grow your business is simply to lower your cost. Now Amazon – and you – know better.
---
Are you getting enough value out of your small business website? Want to make sure your business makes the most of the local, mobile, social web? thinks helps you understand how to grow your business via the web, every day. Get more than just news. Get understanding. Add thinks to your feed reader today.
And while you're at it, don't forget to follow me on Twitter.
Image credit: Robert Scoble via Flickr using Creative Commons Attribution 2.0 Generic.
Technorati Tags:
amazon, e-marketing, Google, internet business, internet marketing, marketing, online marketing, ppc, ppc marketing, search, search engine marketing, sem, strategy, affiliate marketing