Big bad bounces and what to do about them.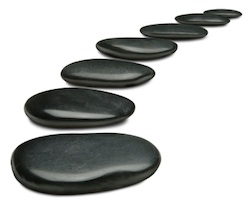 There's an ancient proverb that states "A journey of a thousand miles begins with a single step." I can never remember whether it was Confucius or Lao-tzu who said it, but in either case, the dude was onto something. The same is true for visitors to your website.
What do I mean?
Well, we all know how bad a high bounce rate can be, but what does it really mean to your business? It means that a visitor will never go a thousand miles, because they've never completed the first step. If you look at your Top Landing Pages in Google Analytics (or your favorite analytics tool of choice), you can see the total number of Entrances, Bounces and the Bounce Rate. But what's missing from the report is what I call "Retained Entrances," or the number of Entrances minus the number of Bounces. That number represents the actual number of people who can take another step into your site. There isn't opportunity for much a journey for the other folks.
GA gives you a handy graphical way to view this, or you can calculate it manually (I recommend the former for a quick check and the latter to confirm value).
Once you know what's going on with retained visits, you have two choices:
Fix the bounces. We've looked at how to fix bounce rate before here on thinks and those lessons still apply.
Make the experience even better for the people who make it past this first page. These tips can help.
While these aren't the only ways to make your site work better for your customers, there's no doubt they are the first step. Enjoy your journey.
---
Are you getting enough value out of your small business website? Want to make sure your business makes the most of the local, mobile, social web? thinks helps you understand how to grow your business via the web, every day. Get more than just news. Get understanding. Add thinks to your feed reader today.
And while you're at it, don't forget to follow Tim on Twitter.
Technorati Tags:
bounce rate, call-to-action, conversion, conversion rate, conversion rate optimization, E-commerce, e-commerce, ecommerce, google, Google Analytics, internet marketing, landing page design, landing page optimization, page design