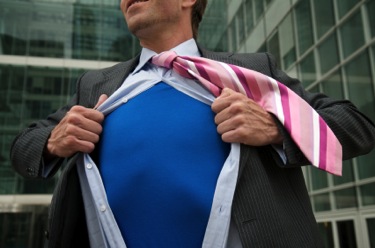 How many people do you know who are lucky? You know the ones. The people that get all the breaks, that everything goes right for, every time. The ones who find nothing but success in all that they do.
That's nonsense, of course.
No one gets all the breaks. No one's life is that perfect.
Instead, every "lucky" person I've ever known really succeeded because they were able to make their own luck, even following serious setbacks.
Businesses have lots of ups and downs, every day. But a marketing promotion that doesn't succeed, a new product that bombs, or a project that fails often plants the seeds of future growth.
A client of mine, for instance, tells a great story about a promotion that didn't work at all. While it raised awareness for their brand, most of the attention proved negative (as in, "did you see how these people screwed up?") Instead of ignoring the failure, the company took what didn't work ("wild promotion to attract more customers") and turned it into a feature for existing customers ("offer 'thank you' deals to great customers to attract more repeat business"). The results have been extraordinary.
Was that lucky? Not really. As one of the team often says, "We paid the tuition; we may as well use the learning."
So, sure, I've talked about luck before on St. Patrick's Day, but it's always worth remembering. As Louis Pasteur once said,
"Chance favors the prepared mind."
In other words, luck is what you make of it.
Looking for opportunity? Check out my "Digital Marketing Directions: Three Trends Shaping 2014 Internet Marketing" on Slideshare. It was, by far, the most popular presentation there this month:
You can also register to receive a free copy of my special report, "Digital Hotel Marketing in a Multiscreen World," produced in conjunction with Vizergy, here. While it's targeted to the hospitality industry specifically, most of the lessons apply across verticals.
Finally, you might also enjoy some of our past coverage of the social, local, mobile web and what it means for your business, including: