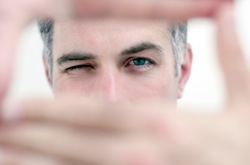 Why do we continually need to remind ourselves to focus? Even during this rough patch, I've found myself repeatedly in conversation with people whose entire world view seems to be "Ooh… shiny!" To say that some people out there have the attention span of a gnat seriously undervalues the attention span of gnats.
This is going to be a crazy year. With elections happening here in the U.S. in November, it's unlikely much is going to change in the political sphere (most politicians won't vote for anything too controversial in an election year, plus they'll spend big chunks of their time campaigning for re-election). The Olympics will take center stage for part of the summer. The economy remains uncertain.
Rather than trying to do a million things at once this year, pick just a few areas that really matter to you. Test your best ideas in those few areas to see what works and what doesn't. Stick with the winners and replace the losers with alternatives.
Given all the uncertainties we're likely to face in 2012, isn't it better to remain certain about what's important to you?
---
Are you getting enough value out of your small business website? Want to make sure your business makes the most of the local, mobile, social web? thinks helps you understand how to grow your business via the web, every day. Get more than just news. Get understanding. Add thinks to your feed reader today.
And while you're at it, don't forget to follow Tim on Twitter.
Tim Peter & Associates helps companies from startups to the Fortune 500 use the web to reach more customers, more effectively every day. Take a look and see how we can help you.