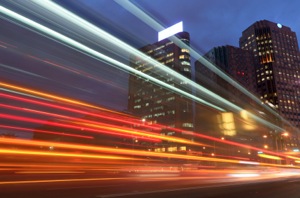 Google introduced its latest "Think Quarterly" online magazine today, this time focused on speed. But why does speed matter in marketing?
Adaptability
The most basic reason speed matters? Adaptability. Change happens every day. And those changes occur increasingly rapidly. With the volume of change, it's almost impossible to predict where the world will be 5 days from now, let alone five years. But what you can do is adapt quickly to the world around you.
"Fast mover" vs. "First mover"
Most people forget that Apple didn't create the first MP3 player. Or the first mobile phone. Or the first tablet computer. And Amazon wasn't the first online retailer. Or the first provider of cloud computing services. Or offer the first e-book reader. And yet each has staked dominant positions in their respective markets.
Why?
Because they learned from the people who came before them, introduced clear improvements on the existing products, then continually innovated to maintain their market leadership. Their efforts haven't always succeeded (see Apple's Newton or Amazon's auctions platform—on second thought, don't). But they've learned from their mistakes and moved forward. Quickly.
SEO and customer benefits of speed
Of course, so far we've only looked at the pace of product and service innovation. But at least two other places exist where speed matters, especially in terms of SEO and customer experience:
Your web platform
Your content process
Platform
Google values fast websites. Increasingly, Google's algorithm factors speed into the equation when determining who gets that vaunted top search result.
But more than that, your customers care, too. Imagine you're looking for a phone number or address when searching from your mobile phone (actually, this is one of the key reasons Google cares about speed so much). 4G may provide reasonably fast service, but bloated, clunky websites that take a while to appear on a desktop computer become downright glacial on mobile devices.
Customers and search engines simply aren't going to wait for your page to load. They're going to click to the site that answers their question quickly and readily.
Content
Customers have too much on their plate to wait for answers to their questions. We've frequently seen companies waiting to address customer complaints—and by doing so, failing to do so effectively.
By contrast, companies that act quickly in response to customer concerns often gain from those actions. Waiting to say what's on your mind (or address what's on your customer's mind), risks missing the moment.
Plus, of course, our old friend Google also values frequently updated content. So a content process that isn't built to support regular and rapid updates isn't much of a content process.
Speed matters
My very good friend Mike Moran is fond of saying "do it wrong quickly." In fact, he's been saying it for over 5 years (the man is both fast and ahead of his time). Don't wait until 2013 to catch up. Make "value speed" one of your New Year's Resolutions right now and get ready to leave your competitors behind.
---
Are you getting enough value out of your small business website? Want to make sure your business makes the most of the local, mobile, social web? thinks helps you understand how to grow your business via the web, every day. Get more than just news. Get understanding. Add thinks to your feed reader today.
And while you're at it, don't forget to follow Tim on Twitter.
Tim Peter & Associates helps companies from startups to the Fortune 500 use the web to reach more customers, more effectively every day. Take a look and see how we can help you.