Get more sales by guiding guests where they want to go (Guide to Small Business Ecommerce)
Many small business websites – ecommerce or service related – can do a better job to help customers find what they want. Big ones, too. This morning I wanted to see what I could get with my credit card rewards points, so I clicked on the big image labeled ShopAmex shown here: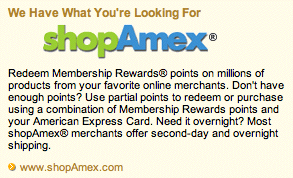 It didn't work. Nothing. Nada. Bupkis.
No, to actually shop Amex, you've got to click that little, bitty link at the bottom. It's a pity I missed it at first.
Now, look closely at this picture: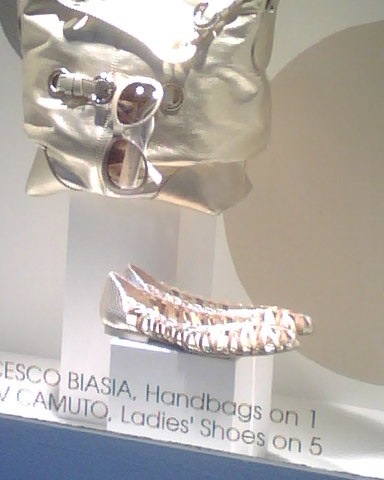 Notice anything interesting about it? The retailer (Macy's in New York) didn't just merchandise the shoes, by complementing them with a bag and sunglasses. No. Macy's did something else, too. They labeled the glass of their display window, telling customers exactly where to find the shoes. And the bag. Almost like a link to the floor.
When you make it easy for customers to do what they want – whether it's find shoes, find a matching bag, or find a bargain – you make it easy for you to get what you want: the sale.
Heard any good tips for getting the sale – online or offline – lately? Tell us about them in the comments. And subscribe to this blog` for more ecommerce and interactive marketing strategy information every day.