Google is not Evil. They just appear to be.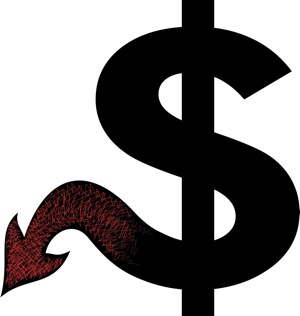 Google is making lots of news this week and not all of it is for the right reasons. First, they introduced their Search, plus Your World enhancement (hereafter referred to as Search Plus because Danny Sullivan is a genius), incorporating social results more fully into the company's search results pages. Twitter hates it, while Matt Cutts thinks it's magical.
Me? I'm ambivalent. This has been a long time coming and, while I don't think it's going away anytime soon, I also think it's incomplete, if for no other reason that so much of the social content that makes Search Plus attractive comes only from Google+. Maybe as Google+ use grows, Search Plus will become more valuable to consumers. But it's way too soon to suggest how it's going to affect business (though I plan to take a couple of guesses next week).
Speaking of the business impacts of Google+ growth, Matt McGee takes a long look at the growth of [Not Provided] as a referring keyword from Google. As I noted in the comments, the more folks log into G+, the bigger potential business impact.
What these two stories have in common is both present Google in a less-than-glowing light. In the first, Google appears to promote its social service ahead of alternatives such as Twitter and Facebook. In the second, Google offers its paid search customers benefits unavailable to those who don't pay.
But are either of these "evil"?
You could easily argue that they're not.
Now, before you get out the torches and pitchforks to storm my castle, hear me out for a second. If you made moves that benefited your bottom line and stuck it to your competitors, do those moves make you evil? Of course not.
So why isn't that true for Google? Shouldn't they get the same opportunity as you? (Ignoring for a moment any antitrust issues, of which I expect Google to face plenty pending the outcome of this year's elections).
Actually, here's the problem. Google's stated mission is to "…organize the world's information and make it universally accessible and useful." All the world's information, universally accessible. Not just the information available on Google's services and not just to people who pay them.
From that perspective it sure looks like they're compromising their core mission some. That may not be evil. But if you sacrifice your values to boost profits, eventually you'll end up with neither.
---
Are you getting enough value out of your small business website? Want to make sure your business makes the most of the local, mobile, social web? thinks helps you understand how to grow your business via the web, every day. Get more than just news. Get understanding. Add thinks to your feed reader today.
And while you're at it, don't forget to follow Tim on Twitter.
Tim Peter & Associates helps companies from startups to the Fortune 500 use the web to reach more customers, more effectively every day. Take a look and see how we can help you.
Technorati Tags: Google, Google +1, Google Analytics, Google antitrust, Google Plus, Google+, Google+ Pages, search, search engine marketing, search engine optimization, sem, seo, social marketing, social media predictions, social search, social strategy