How bad did Google Buzz screw their customers' privacy?
Have you seen Google's Buzz? The folks at This Week In Google have. And, they mostly like what they see. I do too. Except for this one little thing… During the podcast, Jaiku founder Jyri Engeström says (about 13 minutes into the show),
"One could argue, [this was] a brave choice from Google… as a brand to retain people's trust… and I think that's probably the single largest threat to Google that people would, on a large scale, lose their trust in Google… and I think this was one of those cases where a call had to be made…"
Seriously? It was a good idea for Google to say, "Privacy?!? We don't need no stinkin' privacy."
Jyri's right in that losing their customers' trust is a huge threat to Google. And, given that, the right answer is never to say, "Eh. Let's see what happens." (A quick tip o' the thinking cap to Jeff Jarvis, also of This Week in Google, for pointing that out, too).
Google could easily have sent an email, shown a banner or a content ad or all of the above to say, "Hey, here's what we're going to do in a week's time: we're going to immediately and automatically start sharing your Google Reader shared items, Picasa Web public albums and Google Chat status messages. 'K? Oh, and here's how you opt-out if you're really freaked by that notion."
Because, as they've demonstrated with Buzz, they know everything about how to reach you. And all your friends, too: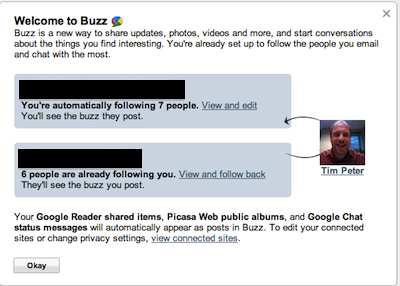 OK. Cheap shots aside, couldn't an argument be made for taking this more proactive approach? Well, Jyri steps up to that, too:
"…honestly, I don't think it's a bad thing for people to kind of be exposed to it, issues, this way and for us to be having this conversation right now because, um, y'know, it's kind of necessary for us to shift, I believe, from this world of the silo-ed social networks into a world where the data can flow freely."
That's fair. Google wants as large an adoption curve as possible. The success of Twitter and Facebook – or, more tellingly, the failures of MySpace and Friendster – have shown us that. And it's clear that many businesses benefit from robust social tools.
But, when you're dealing with your customers' information, you have to remember that it's your customers' information. Yes, Jyri, it's a good thing to have this conversation with your customers. It's a good thing, too, to take steps to open the dialogue. But it's a real bad thing for Google's long-term best interests if they don't start to give a little more thought to their customers' long-term best interests. Because, as I noted above, trust is just one of Google's significant threats. Another – and they can ask their friends at Microsoft about this one – is government intervention.
---
Are you getting enough value out of your small business website? Want to make sure your business makes the most of the local, mobile, social web? thinks helps you understand how to grow your business via the web, every day. Get more than just news. Get understanding. Add thinks to your feed reader today.
And while you're at it, don't forget to follow Tim on Twitter.
Technorati Tags:
E-commerce, e-commerce, e-marketing, ecommerce, Google, google, internet business, internet marketing, marketing, online marketing, social, social marketing, social media, social search, social strategy, what would google do, Google Buzz, Google Buzz privacy, privacy