How long can you afford to suck?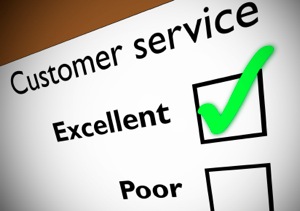 Has this ever happened to you? I was standing in line at my local Rite Aid, waiting to buy a bottle of water and some Excedrin for an increasing-by-the-minute tension headache while watching four employees (two cashiers, an assistant manager and the store manager), debating the value of a coupon with one customer.
Now, I'm all for personalized service, but that's crazy.
During the wait, I watched a few people quit standing in line, put their purchases down and leave the store.
I wonder if any of them came back.
Judging by the items on the counter, the amount of the coupon couldn't have been more than a couple of bucks. Why didn't the manager just credit the first customer, then shove her out the door to handle the growing line behind her? Or better yet, ask the assistant manager and one of the cashiers to open additional registers to deal with the growing line?!?
Now ask yourself: Do I ever do that to my customers?
Is your website or e-commerce provider too slow, making your customers "wait in line" to pay?
Are your product descriptions unclear, making your customers search for more information?
Are your pictures or screen font too small, making your customers squint or lean in?
Is your value proposition poorly stated, making your customers unsure why they should buy from you?
Amazon has killed many bookstores (and other retailers) by ensuring fast, free shipping, reasonable prices and a broad selection. So, ask yourself, why does Powell's Books continue to do well? (Full disclosure: I am an Amazon affiliate.)
Zappos has reinvented the retail shoe business by providing unbelievable customer service (though, not at the expense of other customers), good selection and a simple return policy. But Nordstrom's doesn't seem to suffer. Why?
Expedia, Orbitz and Travelocity have hurt many "traditional" travel agents by offering a range of travel products, loads of travel content, and (relatively) transparent prices. And yet, many niche travel agents have excelled during this same period. Again, why?
In all these cases, and many more, the long-time industry players have adapted to the needs of their customers and differentiated themselves from the larger, online-only players. Powell's focuses on rare and used books, along with hiring committed, book-loving readers. And sells plenty of new books, too, because people who love to read recognize that Powell's shares their concerns. Nordstrom's continues its legendary return policy and, again, excels at customer service. Those niche travel agents? Same thing. Relentless customer service, typically building truly extraordinary trips for their well-heeled clients and fulfilling the most unusual requests with grace and style.
Your business is under siege. New entrants, online and offline (though, really, who's only "offline" these days) seek to help your customers with their problems. And if their problem is you, you've now got a bigger problem.
Mobile only makes it worse. For you, that is. For the customer it's great. Not happy with the service you're getting? Take a look on Foursquare or Google Mobile or Facebook and find a better option.
Those with deep pockets have one advantage: their deep pockets may buy them a little time while they work out the kinks in their operation. But, too many better options exist for your customers if you're not paying attention. And too many customers will get out of line, put their purchases down and leave the store.
---
Are you getting enough value out of your small business website? Want to make sure your business makes the most of the local, mobile, social web? thinks helps you understand how to grow your business via the web, every day. Get more than just news. Get understanding. Add thinks to your feed reader today.
And while you're at it, don't forget to follow Tim on Twitter.
Tim Peter & Associates helps companies from startups to the Fortune 500 use the web to reach more customers, more effectively every day. Take a look and see how we can help you.
Technorati Tags: achievement, amazon, Amazon, continuous improvement, customer satisfaction, customer service, Do It Wrong Quickly, E-commerce, e-commerce, e-commerce satisfaction, E-commerce strategy, ecommerce, Expedia, F-commerce, Facebook, Google, Groupon, internet business, internet marketing, marketing, marketing best practices, mobile, online marketing, reputation management, social media, social strategy, strategy, success, Zappos