How to set up your first business blog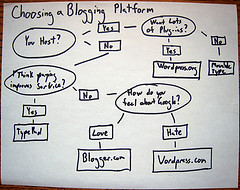 A couple weeks back, we began looking at why you should have a blog for your small business. While we here at thinks have been bullish on blogs for some time, now even Google recommends you consider blogging .
Don't know how to get started? We've defined a simple, 4-step process to help you out:
Basics – Domains, web hosting, tools
Well, would you look at that! It spells BLOG. Huh. Funny how that worked out.
We're going to take a look at the first item, the Basics, today and work our way through the rest of the list in the coming days.
The Basics of Hosting a Business Blog
To start, how much are you willing to spend? You can set up a blog for free, or, if you're willing to spend a few dollars you can have greater control of the whole process. How much? Well, if you go the paid route, figure you'll spend at least $25-$30 for the first year, topping out around $150 (or, really, as much as you could want to spend).
So, which way should you go?
I recommend you at least buy your own domain and host your blog on that domain.
Sure, we'll look at your free option, but the cost is so low, and the benefits so great, there's really no reason not to own your own domain.
How do you do that? Step right up and see.
Domains
Domains are the real estate of the internet. They're the address by which people find you, whereas the site you build at a given domain is your "house." They're things like YourCompany.com, SomeBlog.net and, a personal favorite, timpeter.com. You're better off having your own domain from the start. While you can transfer your blog from someone else's domain to your own later, your search engine rankings will suffer. And that's not a Good Thing.
Most small businesses should already own their domain. If so, great. You're halfway home.
Don't have your own domain? Register one via Namecheap or Hover. I've also used Yahoo! Domains, but, with all the uncertainty around Yahoo! these days, you're better off sticking with Namecheap or Hover. (I used to recommend GoDaddy, but list my reasons for dropping GoDaddy here). Don't sign up for hosting or any of the other extras. You just want the domain for now.
Why not?
Well, as I've learned from past experience, you're better off holding your domain and your website through separate companies.
What about other registrars? Sure, tons of other domain registration services exist, but these two are cheap and reliable, which is what you want in a domain registrar. For a cost about $10.00 per year for each domain, it's tough to go wrong.
thinks recommends: Spend the money for your own domain now. It's worth every penny.
Don't know what to call your new domain? See past coverage of domain name tips here and at GoodURLBadURL.com.
Blogging Platform
Once you have a domain, the next questions are what platform to use and where to host your blog. Me? I'm a big fan of WordPress as a blogging platform. So are CNN, Om Malik and Time Magazine's The Page. Why's that, you ask? You can install it on your own web servers or use their hosted solution at WordPress.com. It's highly customizable, with tons of free themes and plug-ins. WordPress is on its way to being a full-fledged social networking tool. And it has an active support community, including folks you can hire to help if you really need to.
Other options include TypePad, Blogger.com or some of the small business hosting/development tools we've reviewed in the past.
Web Hosting
For hosting, your least expensive option is to host your blog directly at WordPress.com, while pointing your domain to that blog. On the positive side, signing up for the service is free and it only costs $10/year to point a custom domain to their servers.
The downsides of using WordPress.com to host the blog are how much customization you can do and that WordPress shows ads on the hosted blogs (you can get rid of the ads and use your own style sheet to change to look and feel for additional fees of $45 if you choose both). How big a deal is this? Well, that depends. WordPress.com is inexpensive enough (around $55 annually if you choose the options listed above), that cost shouldn't sway your decision. Instead, base your decision on whether you're ready to deal with hosting your own site and the added work that creates.
If you are ready to host your own site, find a dedicated hosting company you can trust. I use Dreamhost – they're relatively inexpensive and decent quality for the money. They don't offer many support options, but they've been relatively stable and easy to use. thinks readers who register with Dreamhost and enter "BuildYourBlog" (without the quotes) in the promo code field will receive a $10 discount on their web hosting. Dreamhost also offers a one-click install of WordPress, which makes initial configuration fairly simple.
I also hear great things about MediaTemple. But, be warned. Their power – a worthwhile investment for some companies – comes at a price (about twice as much as Dreamhost for their entry-level setup).
Two caveats about using your own host:
They're somewhat more expensive than using WordPress.com (figure around $120 per year, though the BuildYourBlog Dreamhost promo code we've provided will save you $10)
They require more knowledge (the price you pay for the ability to customize)
Many options exist to help ease the burden of #2, (not least of which are the tips and tools we point to here at thinks, but it's definitely more work than just using WordPress.com as the host. Fundamentally, either you're ready for your own hosting solution or you're not.
thinks recommends: Unless you have experience – or better yet, experienced staff – mucking about with your web hosting OR you need full control of your customer's experience from the outset – and some of you will – start with WordPress.com (using your own domain, of course). If you like it and you're getting traffic that you want to monetize, then look at moving to Dreamhost.
Alternative: Free Options
Still not sure you want to spend the money for your own site? If you're looking to go the free route, go to WordPress.com and sign up a blog for free. You can probably use the name yourcompany.wordpress.com or something similar. It's that easy. Granted, I don't recommend this option. Moving content later will hurt you in the search engines. And, as you may have heard, search engines are, y'know, pretty important. But, you should know all your options and totally free hosting is one of them.
Conclusion
Whew! That was a lot for just step 1, eh? Still, if you've followed the items above, you're well on your way to having a successful blog for your business.
Next time, we'll take a look at step 2 to help get you the rest of the way there. If anything's unclear, or I missed something obvious, drop a note in the comments and I'll address it. And, don't forget, you can read the whole series here.
---
Are you getting enough value out of your small business website? Want to make sure your business makes the most of the local, mobile, social web? thinks helps you understand how to grow your business via the web, every day. Get more than just news. Get understanding. Add thinks to your feed reader today.
And while you're at it, don't forget to follow me on Twitter.
Technorati Tags:
blogging, blogs
wordpress.com, wordpress.org, domain selection, domain hosting, web hosting