Is small business blogging still relevant in 2011?
I'm getting ready to update my How To Build Your Small Business Blog Guide. And the thought occurred to me: Should you still have a small business blog? I mean, we've got Facebook and Twitter and LinkedIn and YouTube and Foursquare and Google+ and Tumblr and who knows what else coming down the pike. With all those other places out there do you still need a blog for your business? Are blogs still relevant halfway through Twenty-Eleven?
Yes.
And not just yes, but "Hell, Yes!"
Why? Simple.
With all these places for customers to engage with your content, your customers need a "home base" that aggregates it all in one place. I've always called it a "hub-spoke" model, where your website (and, by extension, your blog), provide the hub, while the other social tools provide spokes, outposts and beachheads into your customers' lives.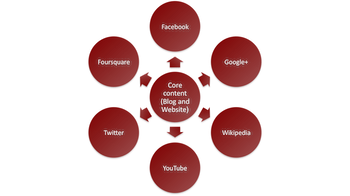 Plus, according to SEOmoz's bi-annual ranking factors survey, 68% of their panel still say links and on-site keywords are the most influential aspects in search engine rankings (with social signals expected to rise). Without fresh, interesting content, how are you going to grow the keywords on your site? What are people going to link to, Tweet about, blast on Facebook and share with their Google+ Circles? And where else would you want those links to point than to your website and to your blog?
So, yes. You should still think about having a blog.
Or better yet, don't think about it. Get to work on it instead.
---
Are you getting enough value out of your small business website? Want to make sure your business makes the most of the local, mobile, social web? thinks helps you understand how to grow your business via the web, every day. Get more than just news. Get understanding. Add thinks to your feed reader today.
And while you're at it, don't forget to follow Tim on Twitter.
Tim Peter & Associates helps companies from startups to the Fortune 500 use the web to reach more customers, more effectively every day. Take a look and see how we can help you.
Technorati Tags:
blogging, blogs, continuous improvement, creativity, e-marketing, Facebook, facebook, Google, google, Google +1, Google Plus, Google+, internet business, internet marketing, marketing, marketing best practices, online marketing, search, search engine optimization, seo, SEO is dead, SEOmoz, social, social marketing, social media, social search, social strategy, content, content strategy