Measuring customer satisfaction: the Avinash Kaushik interview
Avinash Kaushik on 4Q and Measuring Customer Satisfaction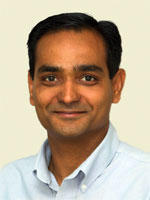 During my discussion of web analytics and business metrics yesterday, I left out one critical metric: customer satisfaction. Until now, few tools existed that made it easy for small business owners and marketing managers to hear what their customers had to say online. That changed last week when Avinash Kaushik and iPerceptions announced the launch of 4Q, a qualitative analysis tool designed to measure customer satisfaction.
I sat down with Avinash (well, emailed, but you get the point) to talk about qualtitative analysis and how site owners can make the most of 4Q. We also talked a bit about the future of the tool and how it came to be.
Tim: First, Avinash, congratulations on the launch of 4Q and thanks for taking the time to do this interview. I'm very impressed by 4Q and happy with the results it's providing for my site so far.
Avinash: Thanks so much Tim, I am absolutely thrilled that you are finding it to be of value. I personally never get tired of analyzing VOC (voice of the customer), every site is so unique.
Tim: Additionally, I love that 4Q asks your three greatest survey questions ever. Can you talk a bit about what led you to develop 4Q and what your goals are for the project?
Avinash: Several reasons. As you know I inhibit the world of quantitative web analytics and there is a tendency to actually believe in the power of all the numbers. Make no mistake they can be powerful, but for a complex interaction medium like the web, people and habits are evolving too fast to actually get lots of insights into customer intent and preferences. So one thing was the limitations when it comes to the power of pure quant stuff to spit out actionable insights.
A secondary reason was that it is quite atrocious how little most website owner's and decision makers know about their actual customers. I know that sounds hard to believe, but it is true.
4Q is our humble attempt at helping decision makers have key customer data (in their own voices) as they consider what to do with their sites. It is also to help facilitate the evolution from simply using the "What" type data to "What + Why" type data.
Oh and it is kind of cool and "web 2.0" to put out something free and of value! :)
Tim: What benefits should site owners expect from 4Q?
Avinash: Simple:
Tap into insights directly from their customers.
Eliminate the need to interpret or throw in your own opinions or overlay "here is what I think works".
If you know why people come to your site, you'll design it better. If you know what people find tough about your site, you'll improve it. If you know they love it, you can go ask your boss for a raise!
Tim: On your blog and in your book, Web Analytics: An Hour a Day, you've talked about 6 recommendations for conducting surveys. 4Q does a great job on most of those. One thing I'm missing is how to tie this data to your regular clickstream or behavioral data. How can site owners integrate 4Q most effectively with their behavioral analysis to create a complete picture of their customers' experience?
Avinash: Connecting the two sets of data would be important, especially as you squeeze all the initial set of juice out in the first say six months or a year.
For GA (Google Analytics), specifically, the best option is to pass a common parameter between both. So, for example, you can pass the anonymous cookie id to the survey and to GA and then use that to tie [them together]. Another alternative is if your survey has a unique value that identifies it, then pass it as a "user defined value" into GA, which also allows you to tie the data and slice and dice.
Tim: And for others?
Avinash: There are some where there is an option to pass a unique identifier (like the user defined value) and there are others where you can import the survey data into the web analytics [tool] after it has been processed. Some of the paid solutions have this option. Please check with your vendor and I am sure they have it.
Tim: 4Q shows its data in real time, without indicating when it's reached a statistically valid sample. Any concerns about site owners reacting to data that may lead them down the wrong path? How can site owners react most appropriately, particularly if their site receives limited traffic (i.e., a statistically invalid sample)?
Avinash: Can I cheat? Here is a comment I wrote on my blog that addresses this specifically (and there is even a pretty table to go with it!)
The short answer is that for a given time period if you get approximately 300 responses (that's it) then the data is statistically significant. But I caution and point out that one of the key outputs of 4Q is open text VOC and there, even with small numbers, you are kosher because customers are helping identify issues with your website.
Tim: 4Q is free for its users. Can you talk about the business model? Do you plan to charge users for 4Q at some point in the future?
Avinash: 4Q is and will remain free. That is our plan for now. No plans for a paid version. There are very good complex paid surveys in the marketplace that solve different problems. 4Q is in a different space.
Tim: Are there future development plans for 4Q that you can talk about? I know it just came out last week but, c'mon, we're impatient folk here on the Interwebs. ;-)
Avinash: I think you are going to see some improvements soon, it has been only a few days but we already have so much great feedback.
Don't hold me to dates yet (!!) but expect to see improvement on the survey invite. I would love for us to add a response rate report, ease of use of adding more sites under one account, and maybe easier to export data out.
So more fun stuff to come. I want 4Q to be truly a customer driven innovation. I plan to stay involved in the evolutionary process of 4Q for the near future, or until they no longer let me (I am sure they are going to get tired of me bugging them!).
Tim: Thanks again for taking the time to talk with us about 4Q. Is there anything you'd like to add?
Avinash: Its my pleasure, thanks for the opportunity.
Tim: Anytime.
How are you measuring customer satisfaction with your website? Tell us about it in the comments. And as a reminder, you can subscribe to 4Q here
Technorati Tags:
business, e-commerce, e-commerce strategy, marketing, small business e-commerce, small business e-commerce strategy